Apple, which announced the financial results for its third quarter (April - June) on Tuesday, said that it had sold 41 million iPhones during the three-month period, slightly higher than the last year's sale of 40.4 million units. Although the iPhone sales were better than expected, it was the company's tablet line-up which led the way for Apple to reach quarterly revenue of $45.4 billion, up seven percent year-on-year.
During the third quarter, which corresponds to the second calendar quarter of the year, Apple sold 11.4 million iPads, up by 15 percent from nearly 10 million iPads sold in the same period last year. The sales of the company's flagship tablet unit saw a significant increase thanks to the strong sales of the new iPad Pro models released late in the quarter and a low-cost iPad earlier this year. Compared to the previous quarter, the iPad sales were up by 28 percent.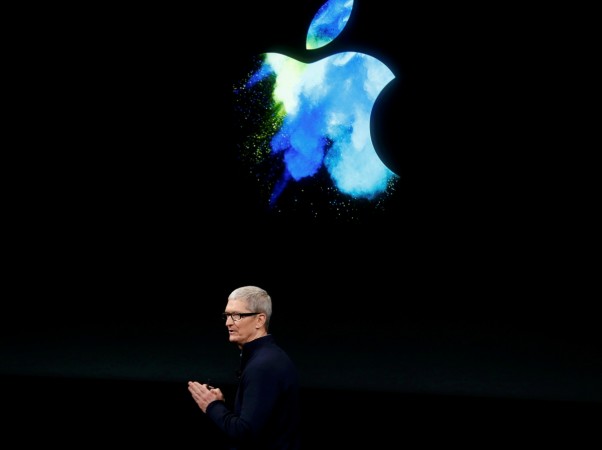 Here's what Apple's CEO Tim Cook said about iPad's sales:
The new iPad we launched in March offers great value and performance, and the all-new 10.5-inch iPad Pro launched in June features the world's most advanced display with ProMotion technology, and is more powerful than most PC desktops. iPad is the perfect tool for teaching in new and compelling ways, and our iPad results were especially strong in the U.S. education market, where sales were up 32 percent year over year to over 1 million units.
The latest Q3 results compare to revenue of $42.4 billion and earnings per diluted share of $1.42 in the year-ago second quarter, the company said in a statement on Tuesday.
"With revenue up 7 percent year-over-year, we're happy to report our third consecutive quarter of accelerating growth and an all-time quarterly record for Services revenue," Cook said.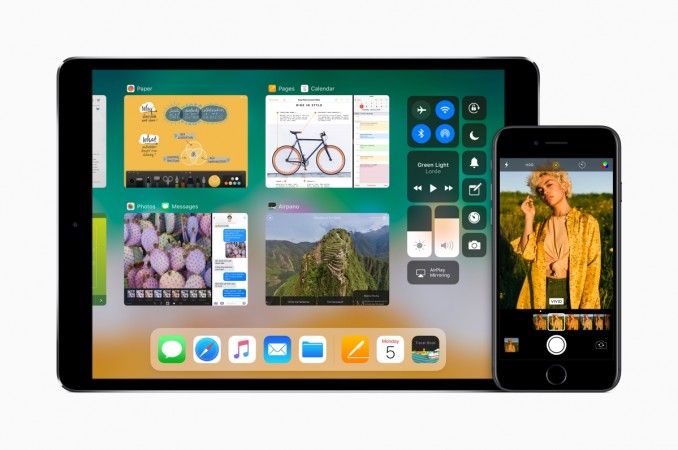 The Cupertino tech giant's net income was up to $8.72 billion ($1.67 per share) from $7.80 billion ($1.42 per share) a year earlier.
"We reported unit and revenue growth in all our product categories in the June quarter, driving 17 per cent growth in earnings per share," said Luca Maestri, Apple's CFO. "We also returned $11.7 billion to investors during the quarter, bringing cumulative capital returns under our program to almost $223 billion."
Here's the breakdown Apple's Q3 revenue by category: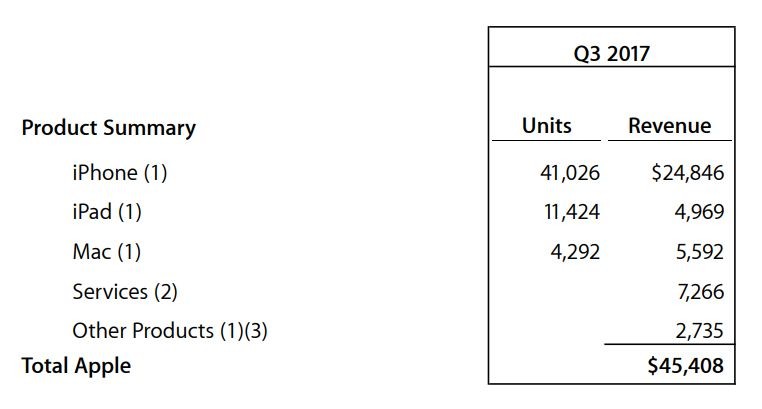 Note:
(1) Includes deferrals and amortization of related software upgrade rights and non-software services.
(2) Includes revenue from Digital Content and Services, AppleCare, Apple Pay, licensing and other services.
(3) Includes sales of Apple TV, Apple Watch, Beats products, iPod and Apple-branded and third-party accessories.
When it comes to Apple's guidance for the fourth quarter of fiscal 2017, the company expects revenue between $49 billion and $52 billion, and gross margin between 37.5 percent and 38 percent.