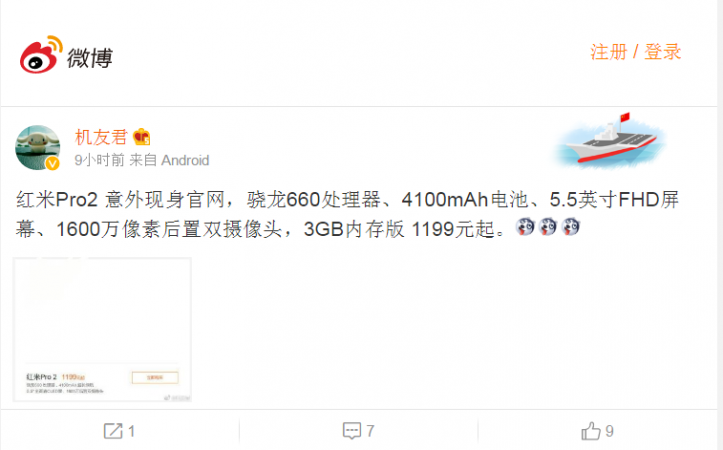 Close on the heels of Mi Max 2 showing up on the official website, Xiaomi Redmi Pro 2 was accidentally listed on the same site for a brief period. It seems the listing was later pulled down by Xiaomi, but someone who took the screenshot of the product listing has posted it on Weibo.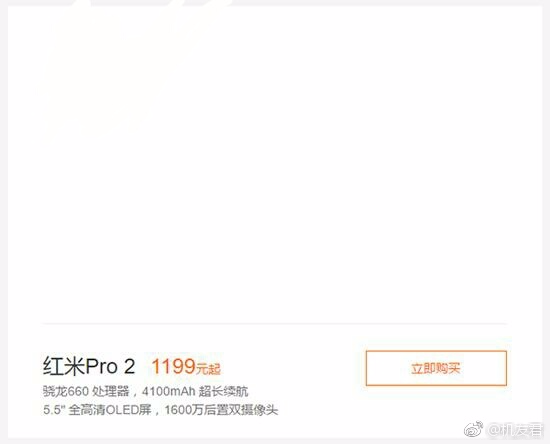 It is not yet known if this was a marketing gimmick or an accidental tease by Xiaomi, ahead of the phone's official launch. Although a significant portion of the product specification is in Chinese, tipsters have identified a few key specs of the handset from the screenshot.
According to the leaked specs, Redmi Pro 2 will be powered by Snapdragon 660 processor and paired with 3GB of RAM. It will feature a 5.5 inch AMOLED 1080p display along with a slightly bigger battery of 4,100mAh as opposed to Redmi Pro's 4,050mAh.
On the camera front, it is speculated that Redmi Pro 2 will retain the same dual-rear-camera setup with 16MP image sensor as seen on its predecessor.
As far as the pricing is concerned, the 3GB variant of Redmi Pro 2 is touted to retail at ¥1,199 (yuan), while there is no word on the cost of other variants. However, rumours suggest that 4GB and 6GB models of the phone are also on the cards.