Xiaomi is riding high on the success of its 2018 releases and an important launch of the Mi A2 is lined up for India in the next few days. But that's not the only launch fans should be excited about as Xiaomi's country head, Manu Kumar Jain, dropped a major hint on the release of a new variant of its successful Redmi Note 5 in India.
Celebrating the fifth anniversary of Redmi phones, Xiaomi's global VP decided to share an image with all the phones he has used in the past and that included a handset we haven't seen in the country yet. As seen on the extreme left, a red coloured smartphone is one of many phones Jain has used over the years and it appears to be none other than the Xiaomi Redmi Note 5 Flame Red edition.
What does this mean for Mi fans in India? Xiaomi could be gearing up for the release of Xiaomi Redmi Note 5 red edition as Jain could be using the new variant sent to him before the official release. We've seen many OEMs launch red coloured phones as limited edition models of their successful handsets and Xiaomi could the latest one to join the fleet.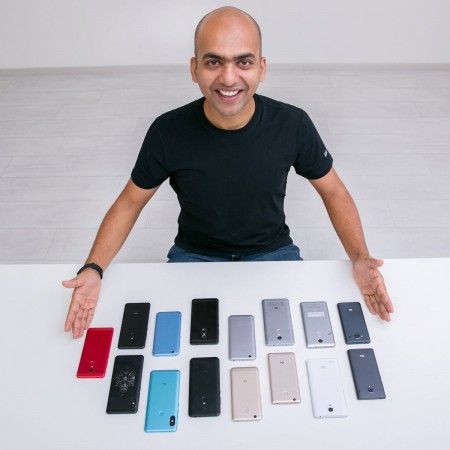 Xiaomi Redmi Note 5 Flame Red edition was originally launched in China a little over a month ago, and it's fitting to see the company bring the special variant to India owing to the success of its Redmi Note 5-series. It is not hard to guess that the red edition smartphone shown in the photo is Redmi Note 5 and not its "Pro" variant due to the missing dual cameras at the back.
Xiaomi had launched the Redmi Note 5 in India earlier this year with a reasonable Rs 9,999 price tag. The handset was an immediate hit among fans as it offered great value for money. But it is not completely odd to imagine the red-coloured smartphone in Jain's photo could well be a new variant of the Redmi 5, which was launched in India in March.
In both cases, the new red edition will cater to the budget-conscious lot who couldn't afford the pricey offerings such as OnePlus 6 Red or iPhone Red products.
Xiaomi Redmi 5 starts at Rs 7,999 in India for 2GB + 16GB configuration and it goes on till Rs 10,999 for the high-end 4GB + 64GB model. It remains to be seen if Xiaomi chooses the Redmi Note 5 or Redmi 5 for its new red paint job in India. Stay tuned for updates.