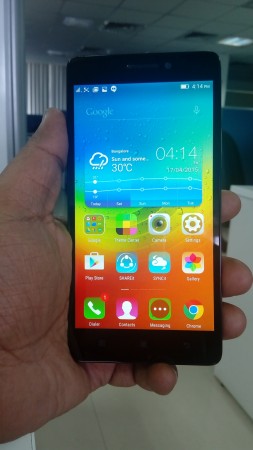 This month Indian consumers saw almost 10 or more budget smartphones being released. These continuous releases might confuse prospective buyers in spite of being able to enjoy the luxury of choosing the right smartphone.
A couple of weeks ago, Lenovo launched its budget 4G smartphone A7000 in India. Following that, Xiaomi released its MI 4i and ASUS released its Zenfone 2 in 3 variants, out of which one belongs to the affordable smartphone segment.
Lenovo is offering its A7000 with impressive hardware, quality cameras and 4G connectivity feature in just ₹ 8,999. Read the Lenovo A7000 Review here.
Through a grand launch event, Xiaomi launched its latest MI smartphone MI 4i with several innovations packed inside the budget smartphone at an offering price of ₹ 12,999. Read the first impression review of Xiaomi MI 4i here.
In the same price ASUS released its entry level model of Zenfone 2 ZE550ML and offers 2GB RAM, 16GB RAM and more. Read the first impression of the high end Zenfone 2 here.
Here is the specification comparison of Lenovo A7000, Xiaomi Mi 4i and ASUS Zenfone 2 ZE551ML
Build Quality
All the three smartphone offer decent built quality with regular rectangular shape and rounded corners. Zenfone 2 ZE550ML offers slightly curved back while the other two feature flat rear finish. The Zenfone 2 ZE550ML and Lenovo A7000 both offer a matte rear panel, while the Xiaomi MI 4i boasts a glossy panel at the back. All three devices are comfortable to hold and keep inside the pocket but all of them prone to fingerprints and smudges.
Display
The Xiaomi MI 4i and Zenfone 2 ZE550ML both boast full HD (1920x1080 pixels) display but while the former offers a compact 5-inch display, the later features a 5.5-inch one. On the other hand, the Lenovo A7000 has a 5.5-inch display with 720x1280 pixels resolution at 267ppi pixel density. We recommend 1080p mostly for decent gaming and multimedia experience but the 720p displays are not bad either. So before choosing the perfect display for you, compare the price with your budget.
Processor and RAM
The Xiaomi MI 4i features a Qualcomm Snapdragon 615 2nd Generation SoC, while the Lenovo A7000 packs a MediaTek MT67752 SoC. Both the SoC bundles octa-core processor along with the much required GPU. On the other hand, Zenfone 2 ZE550ML packs a Quad Core processor based Z3580 SoC inside. On the RAM front, all the 3 smartphone are backed by similar 2GB RAM memory.
Software
All the three smartphones run on Android 5.0.2 Lollipop operating system overlaid with their own version of Interface. We love both the Vibe UI and MIUI of Lenovo and Xiaomi. The latest ZenUI also feels well on the Lollipop OS.
Storage
The Zenfone 2 ZE550ML and MI 4i both feature 16GB onboard storage while the A7000 offers 8GB in-built but comes with a micro SD card slot for expanding it further up to 32GB more. Zenfone 2 also boasts the micro SD card slot but the MI 4i skips it.
Camera
Both ASUS Zenfone 2 ZE550ML and Xiaomi MI 4i packs 13MP sensor for primary camera needs but the Lenovo offers an 8MP rear camera. In the front all the 3 smartphones features 5MP cameras.
Battery
Packed with a 3120 mAh battery Xiaomi MI 4i stands as a clean winner in this segment. ASUS Zenfone 2 ZE550ML has a 3000 mAh battery while the Lenovo A7000 have a 2900 mAh battery.
Conclusion
The ASUS Zenfone 2 ZE550ML and Xiaomi MI 4i both are similarly priced, hence both the devices offer almost at par specifications except for the slight advantage in some features. Xiaomi offers a better processor and battery while the ASUS variant offers a Micro SD card slot. The Lenovo A7000 is priced almost 1/3rd less than both the phones, still it offers a quality processor, identical RAM and micro SD card slot.