Ahead of its official launch in India, ASUS arranged for an early impression event in Bengaluru on Wednesday, where the company showcased all the 3 variants for a hands-on experience.
At the event, we were able to spend some time with all the three variants, but our prime focus was to test the high-end model of Zenfone 2 ZE551ML (model number Z00AD). We used most of the features, played games and clicked photos during the stipulated time and here's our first impression.

Design & Build
We tried all the three variants – ZE551ML, ZE550ML and ZE500CL. All of them fashion similar shape but differ in the material. The low and mid end ZE550ML and ZE500CL feature a rubberised curved plastic back, like their predecessors while the high-end model ZE551ML uses glossy mettalic hairline finished unibody design. All three devices offer a good grip and easy to slide into the pocket. But Zenfone 2 ZE551ML offers a luxurious feel like HTC One series of devices.
ASUS has modified the button layout design a bit by featuring the volume rocker button at the back. It is one thing to control the speaker volume while on a call, but it can be accidentally pressed when inside a tight jeans pocket. The power/ sleep button shares the top edge with the 3.5mm audio-out port.
[Read: Asus Zenfone 2 ZE550ML vs Moto G 2nd Gen vs Microsoft Lumia 730: Which Smartphone to Buy]
All the three variants offer a great finish with a decent build quality.
Display
ASUS has chosen different quality displays for each of the models. While the top end Zenfone ZE551ML offers a 5.5-inch IPS display with a resolution of 1080x1920 pixels at 403ppi, the other two variants feature 5.5-inch 720p IPS and 5-inch 720p IPS display respectively.
ASUS has added its TruVivid display technology to make the screens appear lively. In real life, the screens offers decent images and texts but sometime the display exaggerates the colours, just like the Super AMOLED screen.
The displays offer quite impressive viewing angles too. All the three displays have been overlaid with Corning Gorilla Glass 3 for added protection.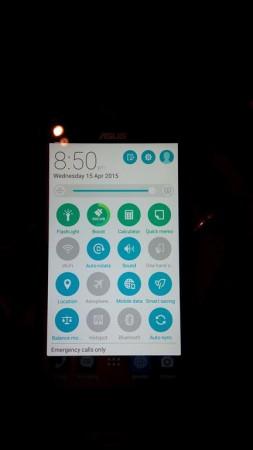 Specifications
ASUS packs an Intel MooreField Z3580 SoC in Zenfone 2 ZE551ML. Based on the 64-bit architecture, the SoC scored higher than the Snapdragon 801 in GFXBench and 3DMark benchmarking software. The SoC has been aptly backed by 4GB RAM and 32GB in-built memory.
In our test, we found out of 32GB, the OS consumes around 3GB, which means 29GB of device storage is left for user's consumption.
The other two variants of Zenfone 2, ZE550ML and ZE500CL, come powered by a 1.8GHz Intel Atom Quad-Core Z3560 processor with PowerVR G6430 GPU and 1.6GHz Intel Atom Z2560 SoC respectively. Both the devices have been backed by 2GB worth RAM and 16GB of in-built memory. In both the smartphones, the OS occupies around 3GB of system memory.
According to the global price of Zenfone 2 devices, all the three variants are expected to be priced in budget and mid-budget range. If the Taiwan price is to be considered, the Zenfone 2 ZE551ML is expected to be sold under ₹20,000, which would pose a killer threat to competitors including OnePlus One and Xiaomi MI4. In comparison to both the phones, Zenfone 2 ZE551ML offers twice the memory and a powerful processor along with micro SD card support, which the other two don't offer.

OS & Interface
For Zenfone 2, ASUS has revamped the OS from several angles to offer a better feel than its predecessors. Based on Android 5.0 Lollipop, the ZEN UI offers a colourful interface along with several handy features like ZenMotion, Instant Updates and Zenmotion.
The ZenMotion is a collection of intuitive touch gestures, each providing a new way of interacting with ZenUI, and allowing quick and easy access to frequently-used features such as One Hand mode or Do It Later.
SnapView is a security feature for ensuring enhanced privacy to apps, photos and archived files.
Though ASUS retains the similar iconic pack of Zenfone 6, the interface look feels much handy in use for the latest OS. Fortunately, Zen UI has app drawers so that you can customize your home screen with several apps, folders and widgets.
Gaming
We played Asphalt 8: Airborne in the Zenfone 2 ZE550ML for half-an-hour and found the phone was able to justify the graphic capability properly on the display. The animations and motion appeared in real time without any stuttering experience and most surprisingly the device doesn't heat up, like HTC One M8.
Camera
The Zenfone 2 ZE550ML packs a 13MP rear camera and a 5MP front camera while the other two models Zenfone 2 ZE550ML and Zenfone 2 ZE500CL feature 13MP+5MP and 8MP+2MP camera combination. All the three variants come equipped with PixelMaster technology with f/2.0 aperture.
We found the cameras are able to focus quickly on subject and click decent quality images with apt details. The stock camera offers an array of manual controls like White balance, ISO and Exposure. If you don't like tweaking the camera for enhancing image quality, the camera app offers several modes including low light, depth of field, night, miniature and more.
Our Impression
The prices of all the three models will be available by 23 April in India. But we speculate the entry level model to be priced somewhere around ₹11,000 while the top end Zenfone 2 ZE551MLto be available under ₹20,000.
If the Zenfone 2 ZE551ML is priced at or below ₹25,000, it should be considered as a beast offered at that price. The design, latest Android OS, powerful configuration and impressive camera can fetch another 'flagship killer' tag for it.