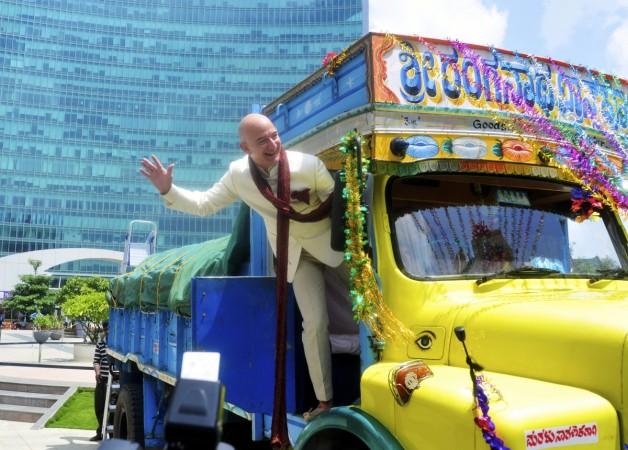 The world's richest man just got richer. Amazon CEO Jeff Bezos is now worth $141.9 billion, a jump of more than $5 billion since June 1 as per Forbes. The magazine valued Bezos as part of its Forbes World's Billionaire List, where he is now worth $49 billion more than Bill Gates and about $60 billion more than Warren Buffett.
Bezos officially became the richest person in the world earlier this year, as Amazon's stock has continued to see a meteoric rise in value. The online retailer is currently the second most valuable business in the world behind Apple, with a market value of $763.27 billion.
For Amazon, 2018 has been a very good year, with customers rising in number even though the company increased the cost of its Prime Membership, offering a slew of perks and advantages to subscribers.
The 54-year-old Bezos started Amazon in 1994, at the age of 30 when he found out that "Web usage was growing at 2,300 per cent per year," forcing him to quit his job as Vice President of D.E. Shaw to start Amazon. It only took Amazon three years to go public, and there has been no looking back since.
Initially begun as an online bookstore, Amazon over time expanded to a variety of other offerings as Bezos moved to make the company an 'everything store'. Today Bezos' vision has seen the brand diversify into hardware with the Kindle e-reader, Alexa home assistant and the failed Fire Phone. A huge part of Amazon's business comes from its cloud service Amazon Web Services (AWS), which is one of the world's largest cloud storage providers.
Bezos's success has not seen him slow down, however, as the company continues to invent and diversify its offerings. Amazon's Prime service now has 100 million users as of April 2018 and has overtaken Netflix in India.
Bezos has also founded aerospace company Blue Origin in 2000 and bought American newspaper The Washington Post in 2013 for US$250 million in cash. He also oversaw the purchase of grocer Whole Foods by Amazon late last year.