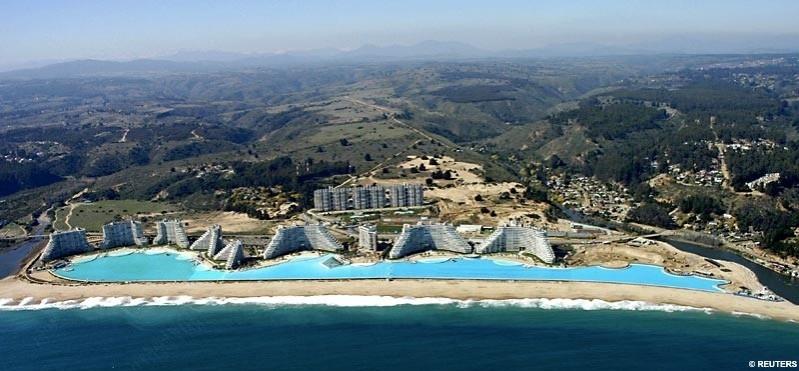 The world's largest swimming pool, The Crystal Lagoon at the San Alfonso Del Mar Resort, is bigger than 20 Olympic-sized pools put together.
The huge pool is set halfway up the country's Pacific coast, in the city of Algarrobo, Chile, about 100 kilometers west of the capital Santiago. The pool holds the Guinness World Record for the largest and deepest pool.
The man-made Crystal Lagoon opened in December 2006 after nearly five years of construction work. According to the early estimates, the total cost of the construction of the pool was about US$ 3.5 million, but more recent, and perhaps the most accurate estimates show that the total cost of the construction of the pool is about $1.5 to 2 billion USD and about $4 million USD is the annual cost of the maintenance of the pool.
The pool, developed by Chilean company Crystal Lagoons, stretches for more than a half-mile and is filled with 66 million gallons of crystal clear seawater which is obtained directly from the Pacific Ocean via filtration.
The water is filled in the pool with the help of a computer-controlled suction and filtration system that sucks water in from the sea at one end and pumps it out at the other.
The Crystal Lagoon is also the world's deepest at 115 feet and people can also engage themselves in various activities from boating to snorkeling.