When we talk about disruptive trends in the smartphone industry, a few names instantly pop-up. The world no longer follows giants like Samsung, Apple and Huawei, as other new brands like Xiaomi and OnePlus have taken over global interests recently. But there's one more brand that is going to make its presence felt in the innovation space with its world's first smartphone with 12GB RAM.
Lenovo is launching its first phone with in-display front camera, the Lenovo Z5s, joining the league of Samsung and Huawei with similar technology. With the help of in-display camera, Lenovo can achieve higher screen-to-body ratio, a claim that had previously landed the Chinese manufacturer in trouble. The official launch of the Z5s smartphone is to take place in China on December 18.
All the bad press aside, Lenovo might have something that turns the tables around. Like some popular brands OnePlus, Huawei and Oppo, Lenovo is also partnering with a car brand for its upcoming flagship and calling it Lenovo Z5s Ferrari SuperFast. It remains to be seen whether the special edition phone will launch alongside Z5s tomorrow, but the said handset's "About Phone" page has leaked to show a jaw-dropping specification.
In the race to pack higher RAM into phones, OnePlus, Xiaomi and others managed to deliver 10GB RAM in their recent phones. Lenovo Z5s will shatter that limit by offering whopping 12GB RAM in the Ferrari SuperFast model. Just when we were thinking how 10GB RAM would be used in smartphones, Lenovo has pushed the boundaries, if the leak is true.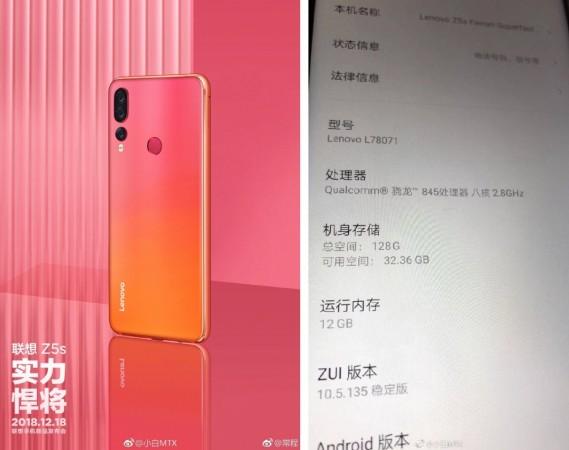 The leaked screenshot specifying 12GB RAM allotment for the Lenovo Z5s Ferrari SuperFast appeared on Weibo, which also confirms the Snapdragon 845 chipset, ZUI 10.5.135 OS and 128GB onboard storage for the phone. In an accompanying photo, the Z5s Ferrari SuperFast is shown in a gradient colour with pink and orange at the back.
The leaked image also reveals the absence of an in-display fingerprint scanner as the sensor appears at the back of the phone. Also, the Z5s is seen with three cameras, just like the one we've seen on Huawei P20 Pro. Surprisingly, the Ferrari branding nowhere to be seen, making us wonder if we should be trusting the leak completely.
It's best to leave some room for doubt as Lenovo is yet to confirm any such collaboration with Ferrari. We hope to know more from the official of Z5s in China tomorrow.
As for the regular non-Ferrari variant of the Z5s, prominent leaks have suggested that the handset would come with a Qualcomm Snapdragon 710. Other details about the phone remain a mystery but stay tuned for updates from the event tomorrow.