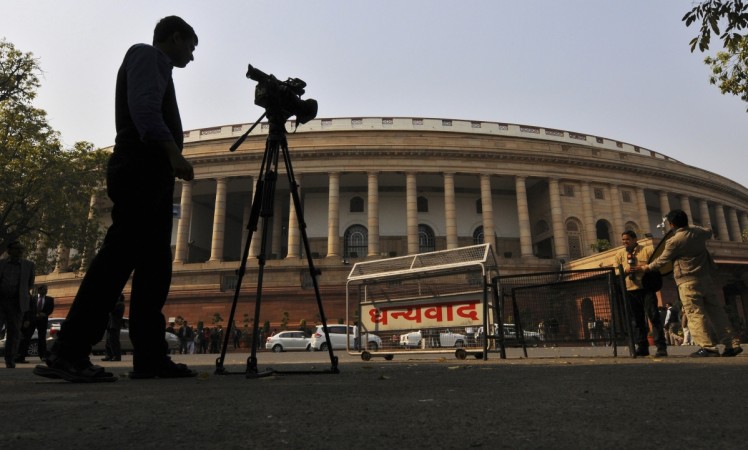 The opposition parties are all set to corner the Narendra Modi government on the demonetisation of the Rs 500 and Rs 1,000 currency notes at the winter session of Parliament that is scheduled to begin on Wednesday and will conclude on December 16. They have also planned around 30 protests outside the Parliament to protest anger and disappointment over the currency ban.
The opposition parties, especially Congress, Trinamool Congress (TMC) and Aam Aadmi Party (AAP), have lashed out at the government over the decision and the problems being faced by the common man because of such a move across India.
All opposition parties had a meeting on Monday as well as Tuesday to discuss ways to take on the government over the ban on currency. TMC and AAP have already demanded the government to revoke the ban, while Congress and TMC have asked for suspension of all work in both the houses of Parliament to discuss the demonetisation issue on the first day of the winter session.
Delhi Police have already sent the Lok Sabha and the Rajya Sabha secretariat a list of around 30 planned protests against the announcement that are scheduled to take place during the session. Besides the demonetisation issue, the opposition parties and other outfits will be protesting against the government's stand on the Kashmir issue, One Rank One Pension, issues related to farmers, missing JNU student, triple talaq and cow protection among other issues.
"We will raise government's failures on all fronts, including black money and issues concerning farmers. There have been about 300 ceasefire violations in Jammu and Kashmir in the last one-and-a-half months which has resulted in soldiers being martyred and civilian deaths," Congress spokesperson Ajoy Kumar told IANS.
Several key bills introduced by the Centre need to be passed during this session but it will be difficult to do so because of the scheduled protests and the Opposition's anger against the demonetisation of currency notes.
The bills that need to be passed include the three "high priority" GST bills that the government is desperate to clear and implement by April 2017:
Central Goods and Services Tax Bill
Integrated Goods and Services Tax Bill
Goods and Services Tax (Compensation for Loss of Revenue) Bill.
The other bills that are likely to be passed or will be introduced in the session to be passed include:
Mental Health Care Bill, 2013
Maternity Benefits (Amendment) Bill, 2016
Citizenship (Amendment) Bill, 2016
The Whistle Blowers Protection (Amendment) Bill, 2015
Surrogacy (Regulation) Bill, 2016
Divorce (Amendment) Bill, 2016