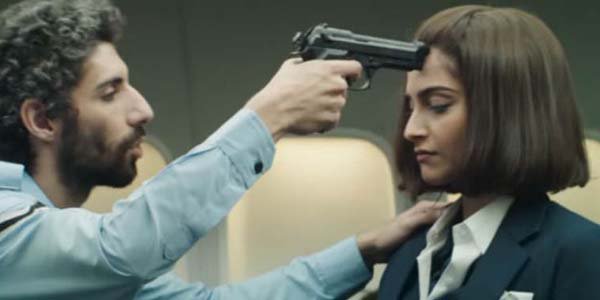 Fox Star Studios India, which holds the distribution rights of Sonam Kapoor starrer "Neerja," seems poised to make a killing at the box office, going by the opening day collections and positive reviews for the movie.
The Bollywood film, based on the life of flight purser Neerja Bhanot of Pan Am flight 73, had a decent opening on Feb 19., collecting about Rs 4.70 crore, according to trade analyst Taran Adarsh.
Fox Star Studios India is a joint venture between 20th Century Fox and television company Star India. The venture's other releases in 2015, such as "Bombay Velvet," "Hamari Adhuri Kahani," "Guddu Rangeela" and "Brothers," were either average or flops at the box office.
Positive reviews for "Neerja" are set to change the trend for Fox Star Studios at the box office.
The then 23-year-old flight pursuer helped about 350 passengers to escape through an emergency exit, but was unfortunately shot dead by the hijackers. The flight, which was on its way from Mumbai to New York, was hijacked on Sep. 5, 1986, by four Palestinian militants.
Bhanot was awarded the prestigious "Ashok Chakra," India's highest peacetime military award for bravery.
"Neerja" has been co-produced by fashion photographer Atul Kasbekar, along with Fox Star Studios India, which is also the distributor of the film.
While Sonam Kapoor plays Neerja, other actors include Shabana Azmi, who plays Neerja's mother, and Shekhar Ravjiani.
A few weeks ago, Akshay Kumar's "Airlift," based on the evacuation of Indians from war-torn Iraq during the Iraq-Kuwait conflict in 1990 in which about 1.76 lakh Indians were evacuated, focused on what is believed as the largest evacuation exercise in history. The film was released on Jan. 22.
"Airlift" collected Rs 12.35 crore on its opening day in India and went on to gross Rs 223 crore in box office collections worldwide in three weeks.
Films such as "Neerja" mark a trend in Bollywood these days to produce films based on real-life incidents that make for good thrillers as they are not entirely fictional and, therefore, have a better emotional connect with those who have experienced the incident or have read about it.
A Reuters journalist, writing in her personal capacity, says that such movies are an example of what happens "when the film-maker respects his source material and doesn't introduce unnecessary melodrama."
The film has got good reviews from many critics.
"Neerja," directed by Ram Madhvani, won't be screened in Pakistan as it is being perceived as portraying the country in bad light.
The "objectionable nature" of the film's content was cited for denying permission to air it in the country, the Express Tribune reported, citing a commerce ministry official. Though the movie was cleared by the country's Central Board of Film Certification (CBFC), as informed by the body's chairman Mobasher Hasan.