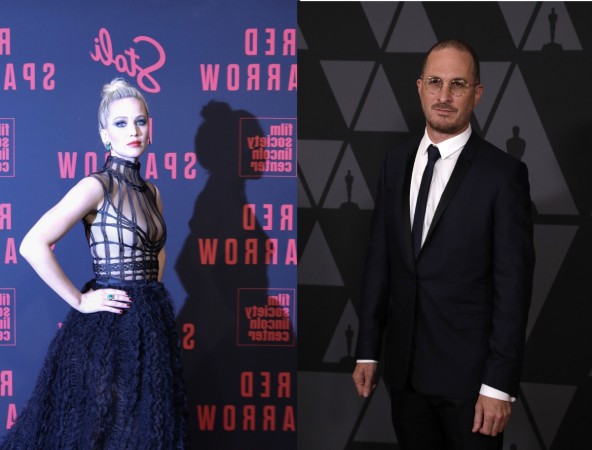 The Hunger Games star Jennifer Lawrence recently opened up about her relationship with Mother! director Darren Aronofsky.
In an interview for Vanity Fair magazine's latest issue, the actress said she has "an amazing friendship" with the filmmaker and they have "immense respect for each other".
The star of the upcoming spy thriller film Red Sparrow also said they were really good to each other when they were in a relationship, and that she thinks that they "will work together again".
"We have an amazing friendship that started before the movie, then we had a partnership with the movie, and then we had a romance that came from the movie. So when you strip the romance away, we still have immense respect for each other," she said.
While speaking on Marc Maron's podcast, the Oscar-winning actress even admitted that she is "still in love" with the 49-year-old filmmaker.
Lawrence then shared some details of her first meeting with Aronofsky, saying he "played hard to get for nine months", which just "killed" her.
"He flew in, pitched me (the movie), left. The whole thing was probably an hour and a half, and then I was like, 'He's hot'. I remember I was holding my dog and I shut the door and when the door shut I went, 'Pippy, that's called sexual tension'," she said.
The Hunger Games star started dating the filmmaker during the filming of Mother! and their relationship lasted only a year. But the actress likes to believe they dated for two years.
"I mean, if we count everything, (we dated for) like two years. I had been saying two years for so long and he was like, 'It's been like, six months," she said.
Meanwhile, Lawrence seems to be preparing herself to take the role of a producer soon. During her interview with Vanity Fair magazine, she hinted at her plans to produce a reality show.
"I have actually been toying with the idea of becoming a billionaire and I'd like to start my own TV network. I am pretty much a television professional at this point. And I have a brilliant idea for a reality show called Breakup Island," she said.
"I can't tell you the details, but there are very distinct cast members like The Bachelor, between the ages of 20 and 50, who you stay with and care about," the actress added.