Jennifer Lawrence has been in the news off-late for her recent appearances. After she dazzled in a golden plunging outfit at the premiere of Red Sparrow, she turned heads with her Versace dress at a press event. But there is more than her outfits that have got the gossip mongers buzzing.
Rumour has it that after she broke up with her director boyfriend Darren Aronofsky, the actress is dating her Red Sparrow co-star Joel Edgerton. According to an NW magazine report, the couple was constantly flirting on the sets of the spy thriller movie. The report suggests that things did not kick off because the actress was dating the Mother! director back then.
"They totally bonded during filming and spent lots of time alone together rehearsing. It was more a friendship and a working relationship," an insider claims.
It is said that their relationship escalated from friendship to romance soon after JLaw's relationship status changed into single. "She's invited him over for dinners under the guise of discussing the promos. Like every man in Hollywood, Joel thinks she's absolutely gorgeous and hugely talented, so he's completely fallen under her spell," the insider alleges.
But Gossip Cop's sources claim otherwise. The unnamed sources say that the actors are not "secretly dating" and their relationship is "platonic."
Dating or not, but Edgerton has come out in the defense of Hunger Games star with regard to the controversial black attire she recently sported and received flak on.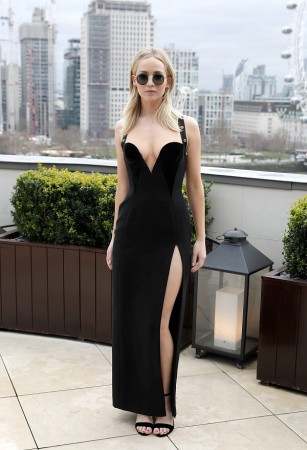 Calling it a "lose-lose" situation, the actor told Yahoo Movies, "It was a really weird situation because if it was a real life I would give you my jacket but right now I feel like I would just be upsetting some designer somewhere. They gave her a dress to wear, a dress they wouldn't want to be covered in a coat."
He added, "I did see [the Twitter backlash], it was pretty funny but look, I don't know if it's double standards. It's weird because on the one hand if you criticise her for looking that way than you are also criticising the whole volume of...the whole history of the way women are expected to look. It's sort of a lose-lose situation."
Lawrence too broke her silence on the criticism and said, "This is sexist, this is ridiculous, this is not feminism. Overreacting to everything someone says or does, creating controversy over silly innocuous things such as what I choose to wear or not wear, is not moving us forward."
Amidst the chaos, Red Sparrow has been receiving raving reviews from critics. The film opens on March 2.