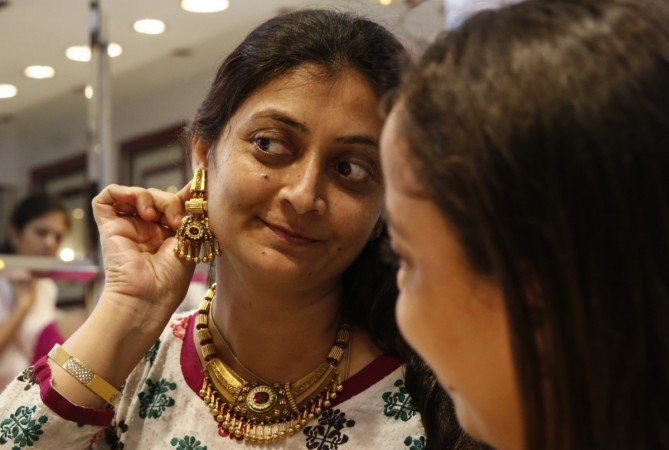 As many people consider Akshaya Tritiya as the most auspicious day to buy gold, the 10 percent drop in gold prices compared to last year is making the yellow metal more attractive this year. But analysts have a word of caution for those inclined to heavy purchases.
The yellow metal's price stood close to ₹30,000/10 gm during the previous Akshaya Tritiya (May 2, 2014) compared to the current level of ₹27,000.
Although the decline in price may lure many to purchase more gold, analysts remain doubtful on the metal retaining its current value in the near future.
"Investors can take some exposure to gold this Akshaya Tritiya to ride the recent momentum in gold prices but resist from all-out buying," Vikas Vaid, head of commodities and currency at Prabhudas Lilladher, told NDTV Profit.
Analysts say the fundamentals governing the gold market are still weak. Gold prices are in downtrend after hitting a peak of around ₹33,000 in 2012.
In the international market, gold prices are struggling to make a sustained move above $1200 an ounce, due to fall in demand in recent years. Investors flock to gold as a safe haven whenever there is turmoil in the financial markets.
India is the largest consumer of gold in the world, with the total demand pegged at 842.7 tonnes in calendar 2014, down 13 percent when compared to 2013.
Besides, record low interest rates and massive quantitative easing programs in major economies of the world failed to push up inflation rates in those countries. Investors also buy gold as a hedge against inflation.
Domestically, unseasonal rains are expected to dampen gold demand in rural areas. Rural consumers account for around two-thirds of annual gold purchases in the country.
However, gold prices could see a pick up if crude oil prices sustain their current rally driving inflation higher.
Brent crude oil prices surged by around 10 percent last week, recording their steepest weekly gain in five-and-a-half years, largely due to reports of a decline in US oil production. The prices of Brent crude recovered to around $63 per barrel, up $17 (approximately a third) from its January low of $46 per barrel.
Nevertheless, gold price movements are highly dependent on the timing of US rate hike in the coming months.
As gold prices move in opposite direction to the US dollar rate, continued appreciation of the greenback on expectations of interest rate hike by the Federal Reserve is likely to put some pressure on the yellow metal prices going forward.
Despite some weakness in the economy recently, most of the US central bank committee members are still in favour of raising rates sooner rather than later.