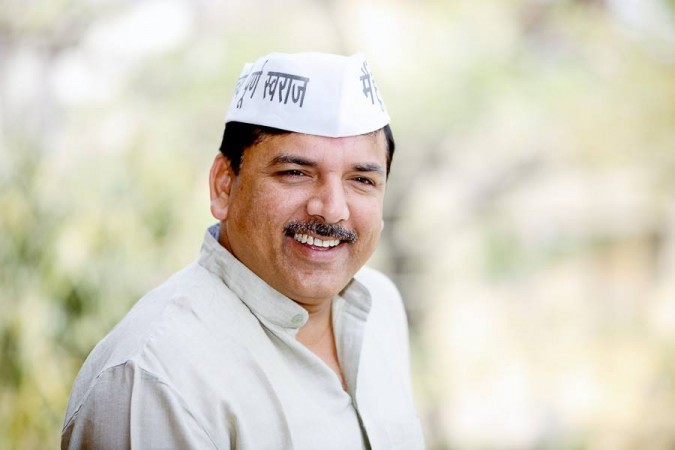 In a humiliating incident, Aam Aadmi Party (AAP) leader Sanjay Singh was on Sunday slapped by a woman in full public view.
The incident happened while Sanjay was on a road show campaigning for the Rajouri Garden Assembly by-poll candidate Harjeet Singh. A party worker named Simran Bedi, from the same constituency assaulted him, claiming that he didn't listen to her complaints of corruption in the party.
Also read: "Modi Modi" chant greets Kejriwal at two MCD poll rallies; this is what Delhi CM said in response
"I slapped Sanjay Singh as all my attempts to raise the issue of alleged corruption in the party went unheard. I tried meeting the top brass including Arvind Kejriwal and Sanjay Singh, but no one was willing to listen to me," she told PTI.
Simran, who is reportedly an aspirant for the MCD elections, claimed the AAP leadership refused to entertain a video of party leaders asking for money from those seeking party tickets for the civic polls.
However, AAP condemned the attack and blamed the opposition for the assault.
"Opposition parties and forces opposed to Aam Aadmi Party knew that stature and popularity of the leaders made this roadshow a big event and to mar that, our leader and spokesperson, Sanjay Singh, was assaulted," AAP's Delhi unit convener Dilip Pandey said in a statement.
"This was a shameful incident which we strongly condemn and reiterate that no amount of verbal or physical assault shall stop the AAP's road to victory in Rajouri Garden by-election,"
The police have said Tilak Nagar MLA Jarnail Singh had made a PCR call to inform them of the assault on Sanjay Singh by a woman but no written complaint has been filed yet. However, the police are investigating the matter.