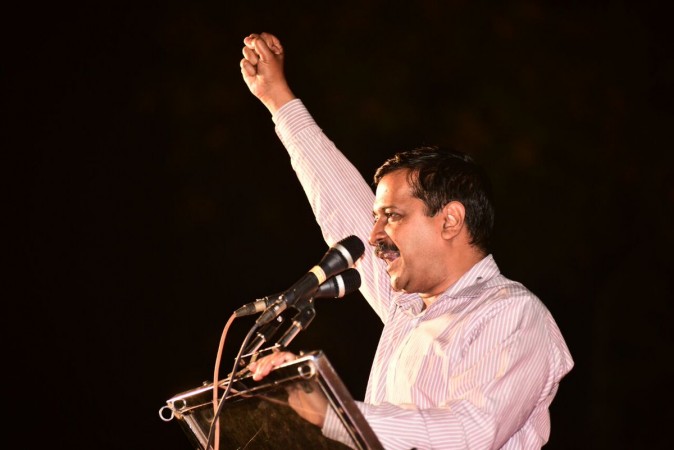 Delhi Chief Minister Arvind Kejriwal on Saturday claimed credit for the new Punjab government's decision to put a ban on red beacons in government vehicles and pass the Lokpal Bill. He said Captain Amarinder Singh-led government took a leaf out of Aam Aadmi Party's book.
"AAP has definitely changed politics. Captain Amarinder has denied red beacons and wants Lokpal now. We started this, we are glad that they are doing this. Had they brought Lokpal before, we would not have been in politics now," Kejriwal said, the Press Trust of India reported.
Kejriwal added that AAP volunteers should help the party leaders in Punjab to play the role of an effective Opposition and ensure the Congress party fulfils its promises. AAP won 20 seats in the state Assembly elections this year.
Punjab government's Cabinet decisions
Captain Amarinder Singh chaired his first Cabinet meeting on Friday following which he announced a series of decisions taken by Congress-led Punjab government:
Red beacons on government vehicles have been banned in an attempt to end the VIP culture. Beacons will be used only on emergency services like ambulances and fire tenders and on the cars of the Chief Justice and the judges of the Punjab and Haryana High Court
Ministers are not allowed to travel abroad for two years. Foreign travel will be allowed only if it is compulsory or has been provided for under a bilateral arrangement
A new Lokpal Bill, better than Anna Hazare's version, will be introduced in the state Assembly. The CM will also be included in the ambit of the Lokpal Bill
33 percent reservation for women in all government jobs and also in contractual appointments of the state government. The state government has also increased their representation from the current 33 percent to 50 percent in the Panchayati Raj Institutions (PRIs) and Urban Local Bodies (ULBs)
Every freedom fighter will be given a house and 300 units of free electricity per month. They will also be exempted from paying toll tax besides being provided with one out-of-turn tubewell connection
No state banquets or dinners will be held at the state government's expense, except in the honour of the President, the Vice-President, the Prime Minister, the Lok Sabha Speaker, Governors and visiting foreign dignitaries
A Special Task Force will be set up in the chief minister's office to address the drug menace in Punjab. During the election campaign, the Congress had promised to address the problem of drugs in the state within four weeks
With regard to the Sutlej Yamuna Link canal, the state government will take up the issue of water sharing in court and at the administrative level on a priority basis.
A new transport policy will be introduced in the next Cabinet meeting to end the monopoly of private buses cartel
Journalists have been exempted from paying toll tax on state highways in Punjab
The salary, allowances and reimbursements for MLAs will be updated every month on the official website and these details would be made public. Insurance schemes will cover the reimbursement of medical expenses of MLAs, ministers, former ministers and the chief minister to reduce the burden of the Punjab government. MLAs and MPs will have to declare the immovable properties that they own every year on January 1. For 2017-18, the declaration has to be made by July 1
New rules will be implemented regarding the protocol to lay foundation stones and inaugurations by legislators and ministers. Foundation stones can now be laid only by the President, the Vice-President, the Lok Sabha Speaker, Union Ministers, the Chief Minister, Assembly Speakers and state ministers.
The district administrations across the state will function normally even if the chief minister or any other minister is visiting the concerned area. Any VIP, who requires an official, will have to get prior permission from the concerned authority
Government officials are not allowed to seek resolution of grievances at the political-level. If required, they can do so with prior appointment and permission of the competent authority