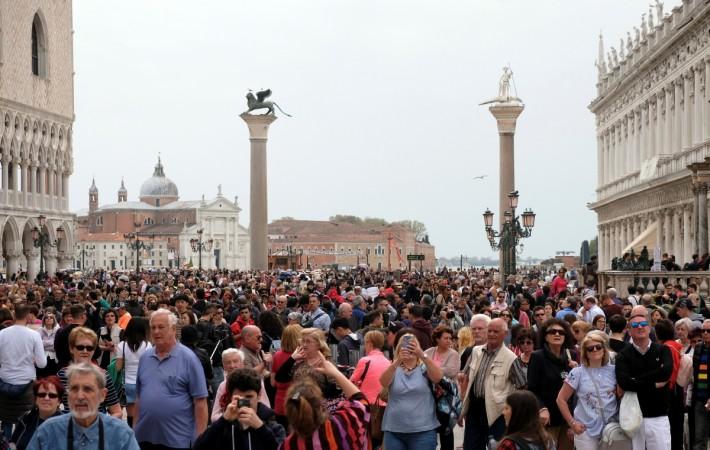 Venice, one of the popular tourist destinations in Italy, has installed temporary gates at the ends of two bridges to control the massive tourist flow.
To cope with the overwhelming number of tourists over a four-day long holiday weekend that ends on May 1, the city has decided to limit the number of tourists. And, the gates were installed Friday, April 27.
The Mayor Luigi Brugnaro took to Twitter to explain the reason behind the decision. He wrote: "People who want to come to Venezia are always important guests for us. My duty is to ensure the safety to visitors and locals, managing pedestrian traffic and water and, if needed, sorting flows of people."
He was quoted by Sky News as saying, "[Council employees] are around the city to understand how we can improve to make Venice more and more welcoming and liveable for the residents. We will try them all until we find a solution and we will not stop."
Although the gates did not need to be shut as the number of visitors to the lagoon city did not exceed the limit. But the idea of limiting the number of tourists allowed to enter Venice remains a highly debatable topic.
However, authorities are fearing that the gates need to be closed Tuesday, which is the May Day bank holiday because the number of tourists is likely to be overwhelming. Only the city residents will be permitted to pass through.
According to The Telegraph, an average of 60,000 tourists arrive on Venice every day while the number is likely to rise to 120,000 Tuesday.
A chaos erupted Sunday after a few dozen activists tried to demolish one of the barriers. They were reportedly carrying a banner, which reads, "Venice is not a nature reserve, we're not in danger of extinction."
The matter was quickly resolved by the intervention of the police.
Installation of gates was just an "experiment" as of now. If it turns to be successful then the idea might be implemented again in future.
"The barriers will only be closed if there are large crowds. The aim of them is to break up and divert the flow of tourists," Luigi Brugnaro told Corriere della Sera newspaper.