Jawa, the legendary motorcycle brand, is back in business and has a very aggressive approach to winning hearts of bikers and motorcycle enthusiasts. From breathing life into the original Jawa bike with modern-day retouching to launching entirely new bikes - Forty Two and Perak - in India, Jawa has a robust strategy in place. But one thing Jawa Motorcycles won't ever indulge in is celebrity endorsements and to be specific - signing up big-time Bollywood stars to promote its bikes.
We've seen actors like Shah Rukh Khan, Salman Khan, Ranbir Kapoor and others endorse certain auto brands, but Jawa won't be following down that path. In conversation with IBTimes, India, Classic Legends CEO, Ashish Joshi, revealed the reason behind it.
"Celebrity endorsement is not something we'd ever look at. The brand (Jawa) itself doesn't need celebrity endorsement. If something is right for the brand, we would do it. For me, the bigger celebrity is Surinder Singh, who has done racing on these bikes, or CK Chinnappa or Subhash Bose for example. People like that are the ones we'd want to facilitate," Joshi told IBTimes, India.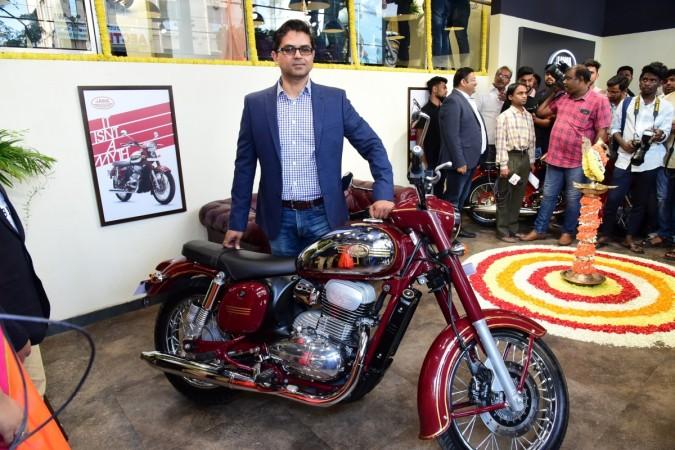 Joshi further stressed upon why Jawa doesn't want a Bollywood celebrity to endorse its bikes. He said the brand is about story-telling and wishes to connect with consumers on those lines instead of opting for mainline advertising.
Jawa, which opened three dealerships in Bengaluru on Thursday, December 20, is expanding its presence across India. Jawa's lineup currently includes three bikes, Jawa, Forty Two and Perak. Of the three, Jawa and Forty Two will be available in India next year onwards for Rs 1,67,000 and Rs 1,58,000, respectively. The Perak will be available at a later time.
Both, Jawa and Forty Two, have a new 293cc liquid cooled, single cylinder DOHC engine, which pushes 27 horses down the pipes with 28Nm torque. The wow-factor of the new Jawa bikes, as Joshi said, is "handling clubbed with stability." Some early reviews for the bike are getting a positive response, which could translate to high demand in the market.
Jawa and Forty Two will be sold through more than 100 showrooms across India over the next three months, the company has promised. In addition, Joshi assured that the waited period will eventually come down as soon as the production systems are online.
So are you planning to book your Jawa? Share your thoughts with us.