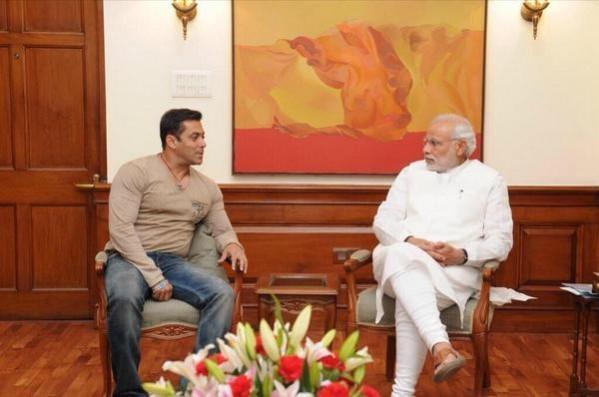 Bollywood superstar Salman Khan, who is currently shooting for his upcoming film "Bajrangi Bhaijaan", met Prime Minister Narendra Modi on 6 November. However, the actor is yet to reveal the reason behind his meeting with the PM, which has created a lot of curiosity among all his fans.
Soon after the meeting, Narendra Modi took to his Facebook page to share the news with his followers. He posted a photo featuring him with actor Salman Khan at his New Delhi office and wrote, "Met noted actor Salman Khan earlier today". However, he too did not reveal the reason behind this meeting.
All the followers of Narendra Modi and Salman Khan are eager to find out what made the actor meet the PM. "Bollywood star Salman Khan on Thursday met Prime Minister Narendra Modi in New Delhi. It was not clear as to what transpired in the meeting," reported PTI. However, it is assumed that they must have had this meeting to talk about Swachh Bharath campaign, which the duo strongly support.
After launching the Clean India Mission on 2 October, Narendra Modi had nominated Salman Khan as its ambassador to spread out awareness about the campaign. The actor thanked the Prime Minister for nominating him after he cleaned a place in Karjat on 20 October. He had tweeted, "I once again thank @narendramodi for taking up the Swachh Bharat initiative and nominating me."
Having taken part in the initiative, Salman Khan nominated all his ardent fans. On 21 October, he tweeted, "First, I nominate my fans on Facebook and followers on Twitter. Each one of us can make a difference."
Meanwhile, Salman Khan had also nominated nine noted personalities. On his Twitter page, the actor had written, "And I nominate Aamir Khan, Azim Premji, Chanda Kochhar, Omar Abdullah, Pradeep Dhoot, Rajat Sharma, Rajinikanth & Vineet Jain."