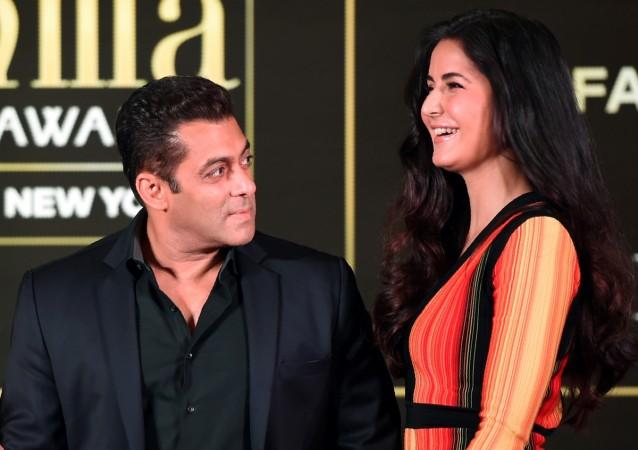 Salman Khan and Katrina Kaif have been one of the most talked about pairs. Although the two never admitted to having dated each other, it is believed that the two were indeed in a relationship till they broke up in 2009.
It is said that Salman and Katrina called it quits around the same time when Ranbir Kapoor and Deepika Padukone parted ways. After her split from the superstar, Katrina hooked up with Ranbir in 2009.
The Bharat actress had created distance from Salman after she came into a relationship with Ranbir. But post her split from the Kapoor junior, Katrina's closeness with Salman again grew. She was having a streak of flops, and that is when Salman gave a push to her career graph by having her on board for Tiger Zinda Hai.
The revival of their bonding made many speculate that the power couple is back in a relationship. Nonetheless, nothing again could be confirmed, and some also believe that Salman and Katrina are just good friends.
But the mystery behind their split is still unsolved, and people are still curious to know what exactly made them part ways. Did Salman and Katrina mutually break up? Did she leave Salman due to Ranbir? Or it was Salman who decided to end the relationship? Questions are many but no concrete answer yet.
However, there are a number of conspiracy theories that are available on the internet regarding the end of the affair. Someone put up a question on Quora asking - Why did Salman leave Katrina?
It got six responses, giving different opinions on the mystery. While some said that it was Katrina who left Salman after "using" the latter for her career growth, some others stated that they were never in a relationship. Some even opined that Katrina ditched Salman after she fell for Ranbir.
Here's what the public has to say about Salman and Katrina's mysterious breakup:
Katrina fell in love with Ranbir Kapoor when she worked in the movie Ajab Prem Ki Gazab Kahaani with Ranbir. That was the first time when Salman felt cheated. Actually according to Katrina, Salman and Katrina have never been in a relationship. And no one knows the reality. When Katrina was a struggler ans was finding some roles, Salman helped her. He gave her the movie Maine Pyaar Kyun Kiya which got her some recognition from people. Then Salman referred her to some big directors. Salman did all the efforts to make her career grow. As a result she became a superstar and then kicked Salman for the biggest casanova of bollywood Ranbir Kapoor. So he didn't left Katrina. It was like Katrina didn't need him because she had ranbir and was having a good going career as well. So why would she still be in touch with Salman. When she broke up with Ranbir and her movies were also not doing well , she came back to Salman. Salman again helped her and she got Tiger Zinda Hai, Anand L Rai's next with Shahrukh and Thugs of Hindostaan with Amir. So that is the story behind Katrina and every Bollywood star. They are your friend only if they are going through a bad time.
Well ! there were nothing between salman khan n Katrina kaif I meant to say no relationship other than friendship ! Salman Khan only helped her out to get out from the initial struggling days and to make her become a super star and eventually it happened as salman khan has a big heart to helping out new comers in the Bollywood take a look sana khan pulkit samrat n many more countless n other side media was making more roumers n controversies about Kat n Salman boy friend girl friend stories blah blah blah ....it as simple as it is ! Now the question is why did Salman leave kat? Well Salman didn't leave Katrina they were n are still friends and before Katrina were already dating ranbir Kapoor madly. it's all cos of our cheap media spreading worthless roumers about them ! So Salman khan never ever dated n left Katrina it was just Katrina got Ranbir n Salman n Katrina were in friendzone nothing else.
Salman Khan did all the efforts to make Katrina's career grow. As a result Kat became a superstar and then she kicked Salman for the Ranbir. So Salman didn't leave Katrina. It was like Katrina didn't need him because she had Ranbir and She was having a good going career as well. So why would Kat still be in touch with Salman Khan. When she broke up with Ranbir Kapoor and her movies were also not doing well , she came back to Salman. Salman again helped her and she got Tiger Zinda Hai.
If you watched aap ki adalat, Salman said there about Ranbir that if someone tries to be friend with you but is just aiming for your girlfriend. Lol. Katrina was cheating on Salman with Ranbir and he played a cameo in the same movie. He got cuckolded. That's that. Would you stay with such a person in your life?And before he could leave her, she left him. But life.... When her career faded, she came back to her bhaiJAAN for role so she could get atleast one hit film. Karma works so many ways.
Did he leave Katrina? Never. He was always her friend. If media puts 2+2 as 22 then it is not Salman's problem, is it? never mind his tempestous past, salman exemplies the proverb - a friend in need is a friend indeed. BTW, Katrina should thank her stars for whatever success she has achieved. Hope she doesn't become too greedy and overstays in Bollywood. It is time for her to move to marriage, motherhood and an alternate career in London.
Katrina needed a ladder to rise up in her bollywood dreams and Salman needed a girl to satisfy his wild side. Both have got what they wanted. Its a done deal.