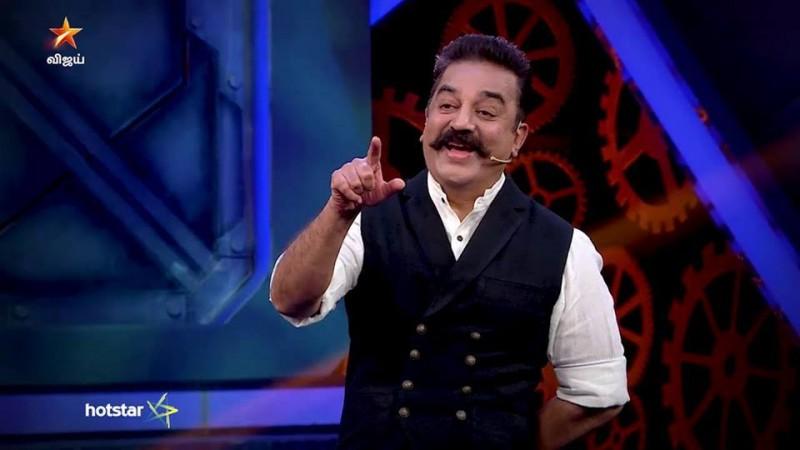 Bigg Boss Tamil 2 fans are unhappy with Kamal Haasan for failing to criticise Mahat Raghavendra's questionable behaviour with Yashika and Aishwarya Dutta.
Viewers had expected that the host would remind Mahat that Bigg Boss was a family show and that his behaviour was inappropriate.
Three major incidents had irked the viewers. Firstly, Mahat slept with two girls on a bed. Although it was a funny situation that happened among the three contestants, a section of the audience found the incident "vulgar."
Mahat also touched Yashika's hips even though she had no objections to it and was comfortable when the actor claimed that he was testing her mic.
Last but not the least, there was even a conversation about Yashika and Mahat Raghavendra on giving her a treatment in a bathroom.
All three incidents were apparently taken on a lighter note by the inmates and there was no sign of romance between the two. However, conservative viewers were uncomfortable watching such scenes on a "family show."
The viewers expected Kamal Haasan to take up the issues and warn the 31-year old actor. The host did ask Mahat why he slept on others' bed, but did not raise any other issues, leaving the audience fuming.
Read the reactions here:
Garuda Puranam: #BiggBoss2 #BiggBoss #BigBossTamil2 #BiggBossTamil well all Tamil World saw that Host & BiggBoss did not address Mahat, Shark, Yaz& Ais issue. confirm all 4 will be in final
#BiggBossTamil #BiggBossTamil2 #BigBossTamil2 before kicking out these 4 idiots Mahat, Shark, Yaz & Ais show full xxx movie which is going on in the House mates
SayWhat: Kamal was totally off.
Did not address Yashika-Mahat-Aish-Shariq garbage. Happily made it about himself.
Out of sync old fool.
Vivin Tamil: Mahat ah onnum sollave http://illa.so ,avan panniya ellam sariya!!! I think appadi Iruntha than BIGGBOSS winner agalam pola.#BiggBoss2Tamil #BiggBossTamil #VivoBiggBoss #KamalHaasan #Kamal
Alexa: this is true but i feel kamal should have addressed how Mahat speaks to others in a rude manner. He slightly talked to shariq about his behaviour but not mahat, aish or yaashika. #BiggBossTamil
அmirtha: Kamal really can't question Mahat and Shariq on anything. When Yashika is okay with what Mahat does, he really can't talk about the topic. Hope that idiot gets nominated and ppl vote him out
Kelly: #Yashika is a deadpan, #Mahath is a pervert, #Shariq is a pea-brain, #Aishwarya is a 'tryingtobecute' type. Super annoying squad overall. #BiggBossTamil #BiggBossTamil2
Shiney Miracula: Mahat went off with whatever he did without any trouble & moreover he has the guts to complain about others without a trace of guilt.. Ultimate disgrace
Juraki: I hoped mahat and Danny would at least get a warning.
Even in front of kamal ,Danny's comments are too degraded. May be he is Degraded.
People were cheering for him tonight. I hope those cheers are for comment about Shruthi by him & not for him.
Rohit Rajavel: #Mahat, #Shariq #Danny and #Beep are gonna njoy #Mamathi's elimination and also this is definitely gonna encourage them to continue their attrocities...Waat @ikamalhaasan talks definitely doesn't make sense at any lvl...God save #BiggBossTamil2 from this guy and d channel
Saha: @ikamalhaasan @vijaytelevision you have mentioned that you will not associate with ppl who show cheap thgs for TRP..but the actions of #mahat #yashika is disgusting and we are not comfortable watching as family.Y is not censored?You didnt ask anything???Y?#biggbosstamil2
Safi Khan K.: This clearly shows that u hate #Mumtaz. No prblm. It's ur choice. She did mistake for which she got punished and she even accepted her mistake.
But wat abt the perverts #Mahat and #Shariq? Why didn't @ikamalhaasan question them? This is wat i wanted to know.
#BiggBossTamil2
Oviyaaneez: Dear @ikamalhaasan ...you gave a wrong message to d contestants yesterday about what public thinks about them...actually most of d viewers were unsatisfied wit..#mahat #shaariq #yashika #aiswarya #daniel.etc...but who cares..u need them happy 4 TRP
#BiggBossTamil2
#biggbosstamil