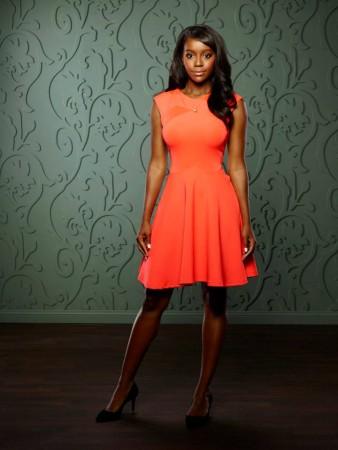 Unlike movies or books, the mystery behind small screen dramas are always kept under wraps and similar is the case with "How to Get Away with Murder"(HTGAWM). But the fans of the crime drama have already come up with their own theories about Professor Sam Keating's (Tom Verica) murder case through #WhoKilledSam hashtag.
And some of the most popular fan theories indicate that Michaela Pratt (Aja Naomi King) is getting away with murder. According to Theoneandonly Pog, "Michela killed Sam when he attacked Wes' girlfriend."
Explaining further, Shaquita Roberts wrote, "Rebecca got caught trying to put the USB in his computer and Sam attacked her. Mikayla witnessed it and hit him with the trophy to get him off of her."
Alicia Braud also believes that Pratt killed Sam, as she wrote, "I think Sam started attacking Rebeca and Micheala came in and saw it and she got scared! Sam comes after her too, forcing Micheala to defend herself with the one thing she had on her, the trophy!"
In a similar vein, Cassaundra Breedlove said, "I think Makaila did it. She had the trophy, she lost her engagement ring, she was the most freaked out. The question is: why?"
Another interesting theory by Ashley Phillips Forsythe explains how Annalise Keating (Viola Davis) will get away with murder. "Annalise fired Bonnie so that when she kills Sam she would have absolutely no involvement in the murder, therefore, she can have her represent her. Annalise gets arrested and has Bonnie as her attorney. Annalise, then coaches Bonnie through the trial to help her get away with murder," she wrote.
However, some of the followers of "HTGAWM" even believe that Sam is still alive and the entire sequence is part of Annalise's classroom teaching.
Meanwhile, the legal drama was listed among the top television dramas on General Sentiment's social TV chart last week, mainly due to its most anticipated mid-season finale episode, which will reveal the killer of Sam.