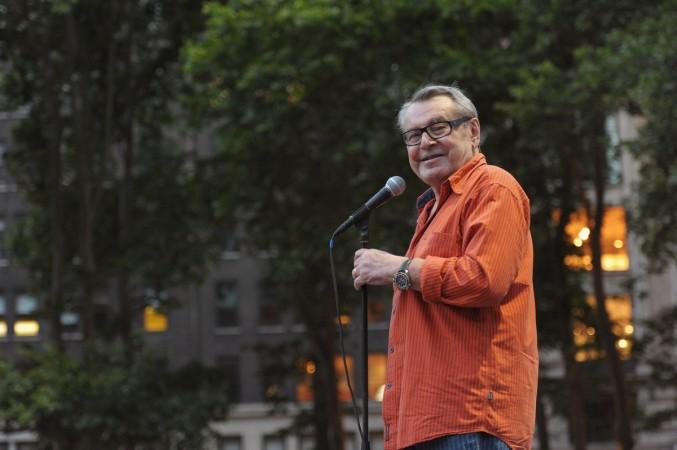 Milos Forman, the Oscar-winning director of One Flew Over the Cuckoo's Nest and Amadeus, has passed away in the US this Friday, April 13, his third wife Martina told Czech news agency CTK. He was 86.
"His departure was calm and he was surrounded the whole time by his family and his closest friends," Martina said, adding that he passed away after a short illness.
Born as Jan Tomas Forman in the Czech Republic, February 18, 1932, he moved to the US from his native country for creative pursuits. He became a citizen of the United States in the 1970s.
In 1950, he enrolled in the Film Institute at the University of Prague. After his graduation, he directed short documentaries – Audition, Black Peter and The Loves of a Blonde.
"When we started to make our films, they were really Czech films about Czech society and Czech little people — and who cares about Czech little people?" Forman told Los Angeles Times in a 2004 interview. "So it was satisfying to have people in other countries respond."
His best-known movies include One Flew Over the Cuckoo's Nest, Amadeus, rock musical Hair, Ragtime, Academy Award-nominated biopic The People vs Larry Flint, Man on the Moon, Valmont and Goya's Ghosts.
Milos is survived by wife Martina and four sons – twins Matej and Petr Forman from the second marriage and Andrew and James, named after Andy Kaufman and Jim Carrey, from the third marriage.
Forman helmed the adaptation of Ken Kesey's novel "Cuckoo's Nest" and it went on to become a critically acclaimed film in 1975. The film starring Jack Nicholson struck a chord with the audience and went on to become the first film since 1934 to win the top five Oscar honors — best picture, director, actress, actor and screenplay (adapted).
In 1983, he made his second Oscar-winning film Amadeus, starring Tom Hulce as Wolfgang Amadeus Mozart. The film won eight Academy Awards, including best picture and best director.