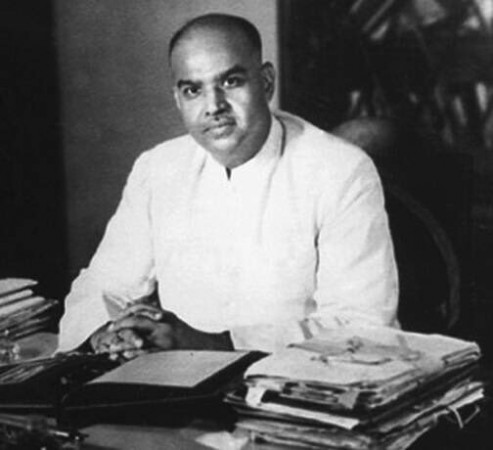 A bust of Bharatiya Jana Sangh (BJS) leader Shyama Prasad Mukherjee was vandalized in Kolkata on Wednesday, March 7.
The incident came mere hours after a statue of Dravidian movement pioneer EV Ramasamy aka Periyar was attacked in the Vellore district of Tamil Nadu.
The attack on Mukherjee's bust is believed to have been in retaliation to the Vellore attack.
Shyama Prasad Mukherjee: 10 things to know
1. Shyama Prasad Mukherjee was one of four sons born to Sir Ashutosh Mukherjee and Jogamaya Devi, both of whom were erudite scholars. He was born in Kolkata on July 6, 1901. He had three sisters as well.
2. Mukherjee followed the footsteps of his parents and attained college degrees in English, Bengali and Law by the time he was just 23. He went on to become the youngest vice-chancellor of Calcutta University at the age of 33. He held the position from 1934 to 1938.
3. Mukherjee was initially a part of the Congress, much like Periyar, and was even a member of the Bengal Legislative Council, having been nominated to the post by the Congress in 1929.
He parted ways with the party next year when the Congress decided to boycott the state's legislature. He instead contested elections as an independent candidate and was elected to the state legislature in the late 1930s. However, he resigned in 1942 citing differences with the ruling government and the British.
4. Mukherjee was also a part of the Constituent Assembly of India — a unicameral legislature elected in an undivided India. He became Independent India's first commerce and industry minister, serving from 1947 to 1950.
5. He joined the Hindu Mahasabha in 1939 and became its acting president the same year. He was the working president from 1943 to 1946. They parted ways in 1950 over their views on the assassination of Mahatma Gandhi and the Mahasabha's reluctance to let non-Hindus into its fold.
This period — from 1939 to 1950 — was checkered for Mukherjee, to say the least. He opposed the Quit India movement in letters to high-ranking British officials.
He also opposed efforts to reunite a divided Bengal during Independence. It is said that the Noakhali massacre — where Muslim leaders killed thousands of Bengali Hindus — influenced his decision.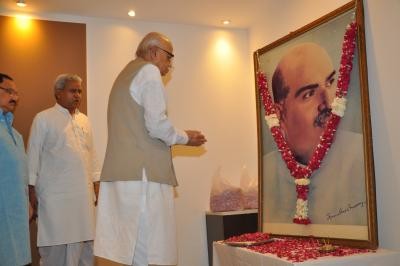 6. Mukherjee founded the Bharatiya Jana Sangh in 1951. The outfit would in 1977 merge with non-Congress parties to form the Janata Party, and some BJS members within it broke away and formed the present-day Bharatiya Janata Party (BJP).
7. Mukherjee highly opposed Article 370 of the Constitution, which gave special status to Jammu and Kashmir. He once famously said: "Ek desh mein do Vidhan, do Pradhan aur Do Nishan nahi chalenge." Translation: A country can't have two constitutions, two prime ministers, and two emblems.
He even tried to agitate in J&K against the provisions of Article 370, but it led to his demise.
8. Mukherjee was arrested in 1953 while making his way to Jammu and Kashmir. He and two of his aides were initially lodged in a prison in Srinagar, but he was moved to a cottage outside the city as his health deteriorated.
Kept at the cottage since June 19, he was officially declared dead on June 23, with the government saying he had died of a heart attack.
Jawaharlal Nehru, who was prime minister then, refused multiple entreaties by Mukherjee's mother Jogamaya Devi to have an independent probe conducted into the death, but Nehru initially said he had been apprised that there was nothing suspicious regarding Mukherjee's death, and later did not even respond to her.
BJP leader Atal Bihari Vajpayee would claim in 2004 that Mukherjee's death was part of a "Nehru conspiracy." A PTI report quoted him as saying: "The J&K government was told [by the Nehru-led Central government] that he should not be allowed to come back [after he entered J&K]."
9. Mukherjee was survived by two sons and two daughters from his wife Sudha Devi, whom he married in 1923. They had a fifth child as well, but he died months before she did in 1934.
10. Mukherjee, although considered one of the proponents of a political Hindu nationalist movement in India, had deep ties with Buddhist organizations as well.
He toured modern-day Cambodia, Myanmar, Thailand and Vietnam with the relics of two of Gautam Buddha's disciples — having been entrusted them by Nehru himself — and then placed them at the Sanchi Stupa in Madhya Pradesh.