While Hollywood dons the black at every award function this year to show their support for the #MeToo movement and #TimesUp movement, reports of actors sexually harassing women are not stopping. Days after reports about Asis Ansari harassing his date made headlines, fans of American Idol are left in shock as a stylist listed down accusations against Ryan Seacrest for sexual misconduct.
Variety broke the news to reveal that Seacrest's personal stylist Suzie Hardy has accused the American Idol host of sexually harassing her for years. In a letter to channel E!, Hardy said that she underwent years of unwanted sexual aggression: rubbing his erect penis against her while he wore nothing but his underwear, groping her vagina and slapping her buttock.
Explaining her silence, Hardy – a single mother – claimed that she did it for her daughter. Hardy was a mother to a preschool-age daughter when she found a job as Seacrest's personal stylist for "E! News" in 2006.
The opportunity provided Hardy good pay and flexibility to pick up her child from school most workdays. Hardy claimed that she stayed mum about her situation because she was concerned about being able to support her daughter.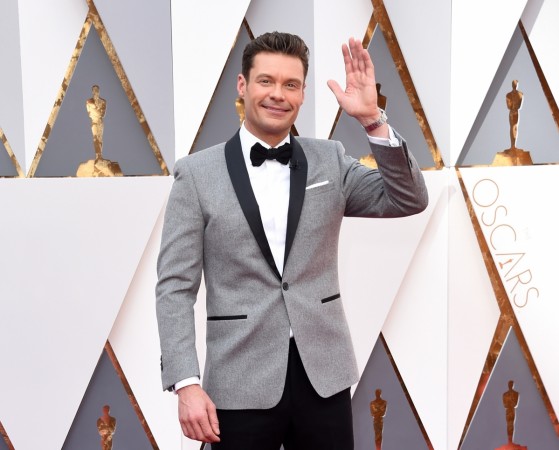 In the letter obtained by Variety, Hardy revealed some shocking details. She began by telling that Seacrest's personal assistant claimed the TV host "is really into you" and "has a crush on you."
Accusations against him:
Seacrest hugged her while wearing only underwear more than 10 times. She also claims that once, Seacrest sat on a director's chair in the dressing room wearing only his underwear, and said to her, "I just don't think you're attracted to me." Her reply, "I'm attracted to my pay check."
A year into her employment, Hardy claims Seacrest slid his hand under her crotch area while they made their way to the sets.
Hardy's former colleagues, told Variety that they saw at least two incidents of Seacrest assaulting Hardy, in 2009. The first incident, both Hardy and her coworker claim, Seacrest slapped Hardy's buttocks so hard that it resulted in a welt hours later. She has taken a photo of it and produced it in front of E! and Variety.
During the 2009 Oscars, Hardy and her former colleague claim that Seacrest was in his underwear standing in front of Hardy with a visible erection. He allegedly threw Hardy onto the bed, climbed on top of her and rubbed his erection on her.
In 2010, Hardy was in a relationship with a prominent entertainment attorney when Seacrest allegedly asked, on two separate occasions, if the couple was intimate. When she asked him not to inquire, he allegedly grabbed her vagina.
Two weeks after she told E!'s human resources executives met Hardy in 2013 about the kind of relationship she shares with Seacrest, the channel reportedly informed Hardy that her employment would end with the channel a week after the upcoming Oscars.
Before the allegations went public, the TV host came forward to deny the claims and attempted damage control. In a column for The Hollywood Reporter, he wrote, "To have my workplace conduct questioned was gut-wrenching. I've always aimed to treat all of my colleagues with honesty, respect, kindness and compassion. Yet, I knew, regardless of the confidence I had that there was no merit to the allegations, my name would likely soon appear on the lists of those suspected of despicable words and deeds. The pressures of our overflowing newsfeeds would insist on it."
He added, "I absolutely want to be part of the change, the progress, that is coming. I did not want to be a postscript of evidence of its cause," referring to the Me Too and Times Up movement.