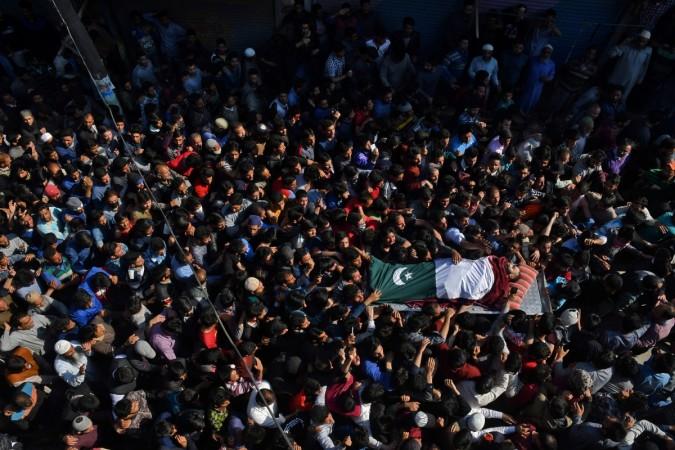 The abduction and release of family members of the Jammu and Kashmir policemen has brought the spotlight back on Riyaz Ahmed Naikoo, the most-wanted militant in the Valley at the moment.
According to the India Today, Naikoo, who is one of the oldest surviving militants in the Valley, comes from Durbug in Awantipora, Pulwama district is rated as an 'A++' category terrorist, and Rs 12 lakh is being offered for information leading to his arrest.
"He (Naikoo) has the ability to attract impressionable minds towards militancy through social media," a report in Times of India said. He is also said to have escaped from several traps laid for him by security forces in the past three years. A central security official, on the condition of anonymity, said that Naikoo has assiduously cultivated an image of a moderate militant. "Last year, Naikoo released a video saying he would welcome the return of Kashmiri Pandits in the Valley and claimed that militants were not enemies of the Pandits," added the official.
Naikoo was one of the militants who showed up at the funeral of Shariq Ahmad Bhat, a terrorist who was killed in a night-long encounter with security forces in January. "Naikoo fired several shots in the air. This was a revival of an earlier tradition of paying tributes to slain militants in Kashmir. The video was shot and widely circulated on social media. Many believe that this tactic adopted by Riyaz Naikoo brought many youths to terrorism in the Valley," sources said. Two of the closest associates of Naikoo, Altaf Kachroo and Saddam Peddar, have been killed by the security forces.
The abduction of the kin of policemen started soon after Naikoo's father was taken into custody. In a fresh audio message released on Friday, August 31 evening, Naikoo reiterated his threat to the police, asking them not to be 'Indian agents'.
According to a report in India Today, security forces in Jammu and Kashmir have released a list of most-wanted terrorists active in the state. Sources say this is part of a larger strategy of the security forces to act against terror outfits. They say this is an extension of the 'Operation All Out' under which a number of top terrorists, including Burhan Wani, were killed in the past two years. The list comprises names of 17 terrorists from Hizbul Mujahideen, Lashkar-e-Toiba, Al Badar, Jaish-e-Mohammad and Ansar Gazwat-ul-Hind.