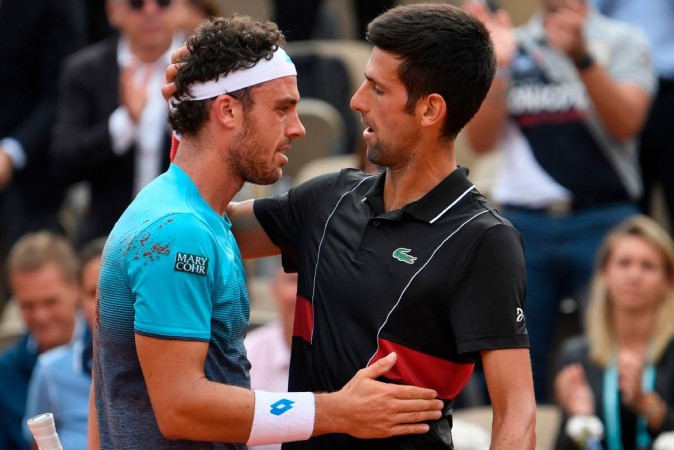 Marco Cecchinato's giant-killing run at the ongoing French Open is certainly one of the most heartwarming stories in sport, this year.
The 25-year-old from Italy had never won a match at the Grand Slam level before he headed to Paris for Roland Garros 2018. Not many would have heard his name except when he was banned in 2016 over match-fixing charges.
Cut to Tuesday, June 5, Cecchinato is in the semi-final after beating eighth seed David Goffin and former world number one Novak Djokovic in the R16 and quarter-final matches, respectively.
Cecchinato became the first man from Italy to reach a Grand Slam semi-final in 40 years when he came up with one of the most exhilarating performances at Roland Garros in Tuesday's quarter-final. He is also the lowest-ranked (72) men's semi-finalist at a major since Wimbledon 2008.
Numbers aside, Cecchinato deserved all the applause that came his way from a packed Suzanne Lenglen crowd after the marathon quarter-final that extended to more than three hours.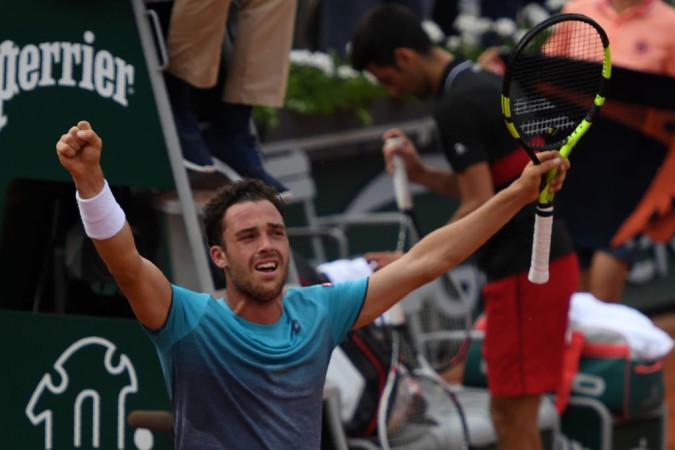 The Italian, buoyed by the win over Goffin on Sunday, started the last-eight match on a high by clinching the first set against Djokovic with relative ease. He stunned the crowd by taking a 2-0 lead after beating the Serb in a second set tie-breaker.
However, his fairytale run was in danger of coming to an end when Djokovic buckled up and cruised towards forcing a decider by taking a comfortable 4-1 lead in the fourth set.
Cecchinato though dug deep and played with steely resolve as he came back from behind to force a tie-breaker, which enthralled tennis fans on Tuesday.
Both players showcased some high-quality shot-making in the fiercely-fought tie-breaker. Djokovic saved three match points and missed three set points only to see Cecchinato sink to the red dirt in joy.
Filled with disbelief, Cecchinato acknowledged the support he had received over four sets on Tuesday even as tears of joy rolled down his cheeks.
Here's all that you need to know about Cecchinato, the Italian giant-killer who will be facing seventh seed Dominic Thiem in the semi-final later this week.
Cecchinato was born on September 30, 1992, in Sicily, Italy.
Nicknamed "Ceck", the Italian started playing tennis at the age of seven and trained under his uncle, according to ATP's official website.
He moved from Sicily to Caldaro to work under Massimo Sartori, Andreas Seppi's coach at the age of 17. His father Sergio, a manager, saved up for the move.
He currently trains in Bologna under Simone Vagnozzi.
He had made his Grand Slam debut at 2015 US Open, losing the first-round tie to Mardy Fish.
He had finished inside the top 100 of ATP charts for the first time in 2015.
Having started the year ranked 109, Cecchinato won his first title at the tour level — Hungarian Open in Budapest beating world number 94 John Millman of Australia in April.
Match-fixing scandal
Two years ago, Cecchinato faced one of the biggest setbacks of his life when the Federation of Italian Tennis banned him for 18 months after he was found guilty of match-fixing during a Challenger event in 2015, according to Reuters.
He was the highest-ranked player to be suspended for match-fixing at that time.
Cecchinato had denied the allegations and his ban was initially reduced to 12 months before it was completely lifted in 2015 after the Italian Olympic Committee found irregularities in evidence collection.
Comeback and the dream run
The Italian played at the Challenger Circuit for most of 2017. He then started his 2018 campaign at Pune Open in Maharashtra.
Cecchinato has assured a place in the top 40 after his win over Goffin. He is likely to enter the top 30 after the biggest win of his career on Tuesday.