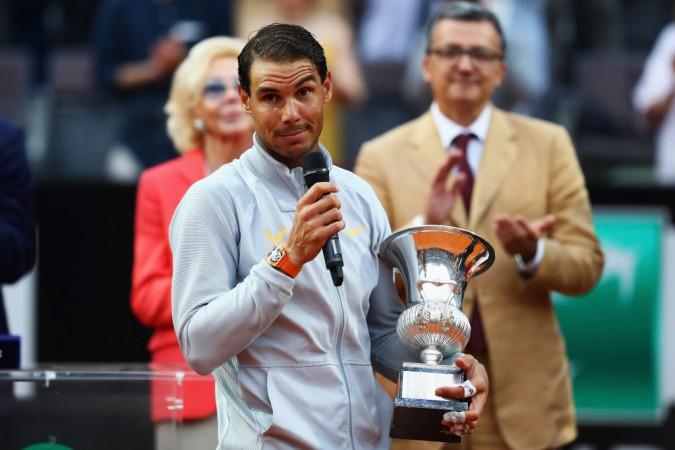 Rafael Nadal has earned a favourable draw to the French Open, where he will be looking to win his 11th Roland Garros title. The Spaniard has potentially missed all the top seeds and can only meet the likes of Novak Djokovic, Dominic Thiem and Alexander Zverev in the finals, should he make his way through the initial rounds.
The Spaniard is back on top of the world rankings after beating Zverev 6-1, 1-6, 6-3 in the final of the Italian Open and shall enter the French Open having lost only one game in the entire clay swing of the ATP season. Thiem, who was the only person to have dealt a loss to the Spaniard, has found himself in a different quarter of the draw and can only meet the World no 1 should both reach the finals.
Nadal will kick off his campaign in the second Grand Slam of 2018 with a first-round match against Alexandr Dolgopolov. The duo has come across each other nine times in their playing career with Nadal winning seven of their encounters. Joao Sousa or Argentine Guido Pella will be awaiting the winner in round two.
The competition gets tougher in the third round when an encounter with Richard Gasquet could be on the cards. Jack Sock or Denis Shapovalov are expected to await the 31-year-old in the last-16 before Nadal can actually face any of the contenders among the top seeds. Should the results go as expected, Nadal could come up against Kevin Anderson or Diego Schwartzman in the quarters.
It is in the semi-finals that he is likely to meet his first top 10 opponent, with Marin Cilic set to meet him there. Juan Martin del Potro is also a possibility but the Argentine is suffering from an injury and will have to see how it recovers.
The Croatian beat Nadal in the quarters of the Australian Open, when the Spaniard had to retire in the fifth set with a hip injury. Djokovic is in the other half of the draw that could see him meet Nadal in the final.
The Serb will have to fend off competition from Thiem and especially Zverev, who had Nadal on the ropes in the final of the Italian Open but inclement weather played spoilsport as the Spaniard was able to use the break between play due to rain to win the last five games of the deciding set and win the tie.
Djokovic was ostensibly back to his best when he met Nadal in the semis and needed a sparkling tie-break performance from the Spaniard to make it through to the finals. Djokovic will be buoyed by his resurgence of sorts and should he be able to replicate his semi-final performance against Nadal, will go a long way and possibly meet his arch nemesis in the final.
Nadal's route to the final:
R1: Dolgopolov
R2: Sousa/Pella
R3: Gasquet
R16: Sock/Shapovalov
QF: Schwartzman/Anderson
SF: Cilic/del Potro
F: Djokovic/Dimitrov/Thiem/Zverev/Goffin