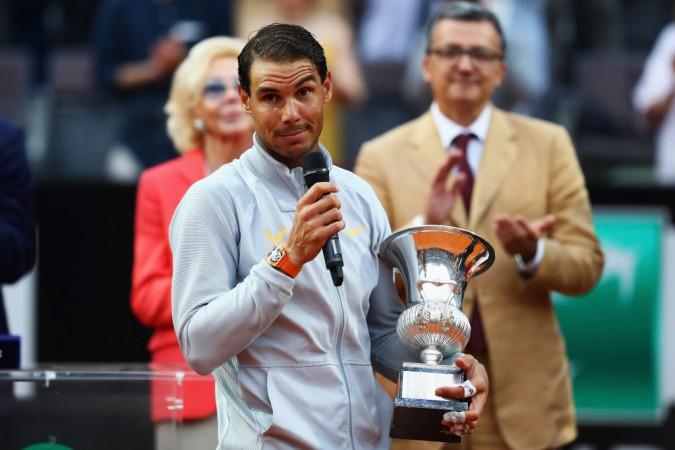 Minutes after Rafael Nadal won an unprecedented eighth title at Italian Open 2018 in Rome, he was asked if he is already thinking about the title defence at French Open and threats of in-form Alexander Zverev and Novak Djokovic at the Grand Slam.
Nadal though sidestepped the question and insisted it was not the moment to think about Roland Garros but to enjoy what he believes "important and emotional" win in Rome.
The 16-time Grand Slam champion won an unprecedented eighth title at the Foro Italico after bringing Zverev's 14-match unbeaten run to an end in a fiercely-contest final.
The 21-year-old German, who had won the Madrid Open title last week, pushed Nadal to the limits in a match that extended to three hours and five minutes. Zverev was up 3-2 in the decider after which a rain break swung the momentum in favour of his opponent.
Zverev struggled to win a game after the rain break as Nadal wrapped up the match (6-1, 1-6, 6-3) without any further slip-ups.
The 16-time Grand Slam champion is once again starting French Open as the favourite but, unlike last year, there are a few in-form players in resurgent Djokovic, Thiem, and Zverev capable of posing a threat to Spaniard at the tournament, which he has won 10 times.
"Well, today is the day to think about this title. The win in Rome is so special. It's not the moment to think about Roland Garros, it's the moment to enjoy this day and in a couple of days, we're going to think about Roland Garros," Nadal told the media after his win in Rome.
"Such an important week to have this trophy with me again after losing in the quarter-finals in Madrid," the Spanish ace, who had defeated Djokovic in the semi-final on Saturday, added.
"It was unforgettable and emotional for me. It's amazing to win eight titles in Rome. It's a difficult event and to have the chance to win again here means a lot. This is the moment to enjoy winning here again."
Came back with a clear mind after rain break: Nadal
Nadal also spoke about the decisive rain break in the decider of Sunday's final against Zverev. The German was racing towards a second straight title on clay.
Despite going down 6-1 in the first set, Zverev came back strong, hitting some powerful winners to take the second 6-1. Zverev got an early break in the decider and was up 3-2. However, he lost all the momentum after the brief delay.
"When it happened, the rain delay, I didn't feel in that moment that it would help me. That's my feeling," Nadal said.
"It's true that, if we analyse it now, of course, we can say that the rain delay helped me. But really, in my opinion, what helped me is that I came back with a clear idea in terms of tactical issues and in terms of decisions that I took after that break.'
Following the title-winning run in Rome, Nadal returns to the number one spot on ATP rankings. Notably, he had lost the numero uno position to Roger Federer after his quarter-final exit in Madrid.