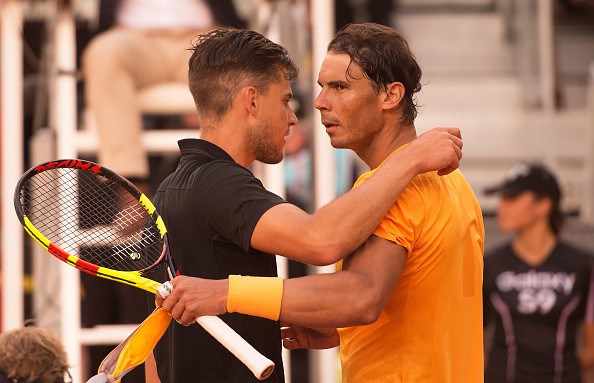 Dominic Thiem has revealed what is needed to defeat Rafael Nadal on clay after the Austrian got the better of the Spaniard at the Madrid Open, something that had not been done before this campaign.
Thiem believes that you have to go in with the right attitude and belief that you can do it, otherwise you have no chance at all. The Austrian ended Nadal's 21-match winning streak on the surface and his record of winning 50 consecutive sets. This was Thiem's third win over Nadal on a clay court leading to talk that the 24-year-old has the number on Nadal.
Thiem upped his intensity in the much-anticipated last-eight match and came up with some delightful winners which Nadal had no answers to. He was moving quickly on the court and was making sure he hit his forehand and backhands early in order to deny Nadal the extra time.
The Austrian wrapped the first set with 7-5 and was up 3-1 in the second before the top seed caught up with him. The 24-year-old, though, held his composure and broke Nadal again to wrap the second set 6-3, thereby avenging his straight-set defeat to the Spanish giant in Monte Carlo Masters last month.
The duo is likely to meet again in Rome, having been pitted in the same quarter of the draw. The Spaniard will be desperate for revenge after being humbled in Madrid but Thiem does not have any reservations going into the tournament and expects to do well there after missing out on his first Masters title in Madrid.
"I went in with the attitude that I can beat him," Thiem said, as quoted by the Express. "It was very important I went in with a positive attitude, with an attitude to win. Like this, I should go in every match against him."
"I played a very good tournament in Madrid," Thiem said. "Here in Rome, again, not the best draw, I would say. A little bit unlucky again. But I have to see. Last year, I did really well. The change from Madrid to here, it's very different. I hope I can do it again here."