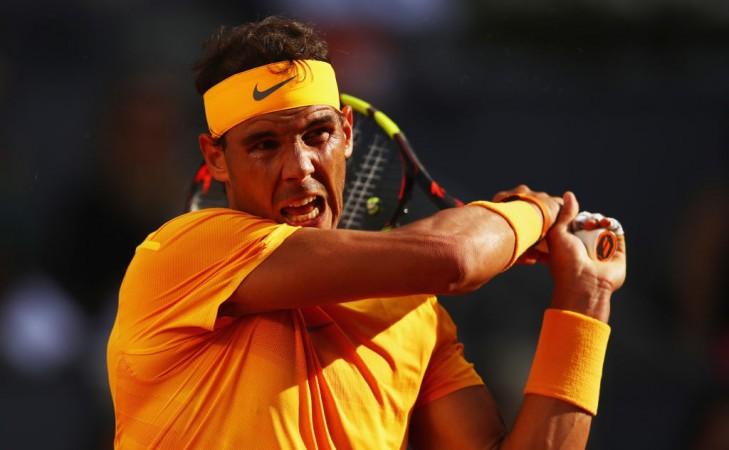 Tennis ace Rafael Nadal said on Friday, May 11, that he is not as concerned about losing the top spot in ATP rankings as he is focused on staying fit and feeling happy on court. The 16-time Grand Slam champion added that he is more intent on qualifying for the season-ending World Tour Final.
Notably, Roger Federer, who has opted to skip the clay-court swing of the season, will leapfrog Nadal when the rankings are updated next week. The Spaniard though is on the third spot in the Race to London rankings, behind the Swiss great and Juan Martin del Potro.
Nadal's unbeaten run on clay this season came to an end on Friday when he lost the quarter-final of ongoing Madrid Open to Dominic Thiem in straight sets. The Spaniard's 21-match and 50-set winning streak was also brought to a halt by the fifth-seeded Austrian.
Thiem upped his intensity in the much-anticipated last-eight match and came up with some delightful passes. He was moving quickly on the court and was making sure he hit his forehand and backhands early in order to deny Nadal the extra time.
The Austrian wrapped the first set with 7-5 and was up 3-1 in the second before the top seed caught up with him. The 24-year-old, though, held his composure and broke Nadal again to wrap the second set 6-3, thereby avenging his straight-set defeat to the Spanish giant in Monte Carlo Masters last month.
"I lost the No. 1 before, but what makes me happy is I feel fit, can compete with possibilities every single week. This is my final goal: to be happy. That's what I'm working on," Nadal said, as quoted by ATP's official website.
He added: "I think I placed myself in a good position, more or less. I am No. 3 in the Race of the year, which is the most important thing. I still have two good weeks on clay, and then I'll keep on moving forward. This is the reality."
Talking about the match, Nadal said, "I won 50 straight sets on this surface. Today I lost the match. It was not my day. But that's part of this sport. That's part of the sport in general. So I can't go back to the hotel and think that I have to do a lot of things different to prepare the next events because [that] will not be something that will be very smart."
Nadal will have a few days' break before he starts his campaign at Rome Masters. He is likely to face Thiem again in the quarter-final of the final ATP Masters 1000 tournament on the red dirt, starting May 14.
The world number two can reclaim the top spot next week, but only if he manages to win his eight Rome Masters title.