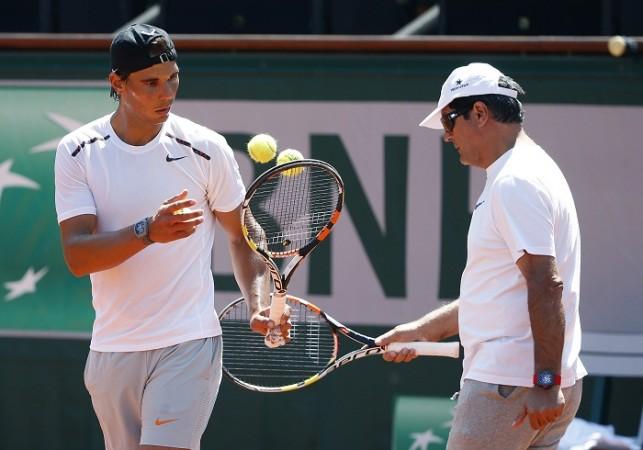 Nadal is on top of ATP rankings, 100 points clear of second-placed Federer
The Spaniard will be defending 3,160 points in the remainder of the ongoing clay season.
Rafael Nadal's uncle and former coach Toni Nadal has said his nephew can retain the world number one ranking at the end of the ongoing tennis season.
The 57-year-old's comments are in contrast to that of Nadal, who had conceded that it was "very unlikely" that he would clinch a fifth year-end number one ranking this year. The Spanish ace pointed out he had lost three month's of his season due to a hip injury and the three-month layoff might hamper his chances.
Notably, Nadal had piped nemesis Roger Federer to finish 2017 as the number one-ranked player. Both the greats had shared the Grand Slam titles equally between them but the Spaniard's dominance on clay, where he won four titles, helped him seal the coveted spot.
"Today I see Rafael holding the number one. Nadal can retain the number one ranking at the end of the year," Toni was quoted as saying by Daily Express.
"He has shown it when he has been able and has shown to have a great level. In Australia Nadal arrived without hardly playing and performed at a good level until he was injured," he added.
"To defend the number one in 2018 you have to measure other players who are there like Federer, [Alexander] Zverev, [Novak] Djokovic."
Nadal faces an uphill task
Nadal faces a stiff test from nearest-rival Federer as the two are separated by only 100 points on the ATP charts. The 16-time Grand Slam champion needs to win the ongoing Madrid Open title if he is to retain his top spot.
Federer, who has skipped the clay-court season for the second straight year in 2018, is not defending any points on the red dirt. However, Nadal will be defending 3,180 points in the remainder of the clay-court swing this season.
However, Nadal quest for clay-court dominance is on track as he has already won the Monte Carlo Masters and the Barcelona Open.
Seeded number one at Madrid Open, five-time champion Nadal starts his campaign against Frenchman Gael Monfils on Wednesday, May 9. The 31-year-old has been handed a tricky draw as he is likely to face fifth seed Dominic Thiem, who was the only player to beat him on clay last season, in the quarter-final.
If Nadal passes the Thiem test, he is likely to face Indian Wells champion Juan Martin del Potro in the semi-final of the Masters 1000 tournament.