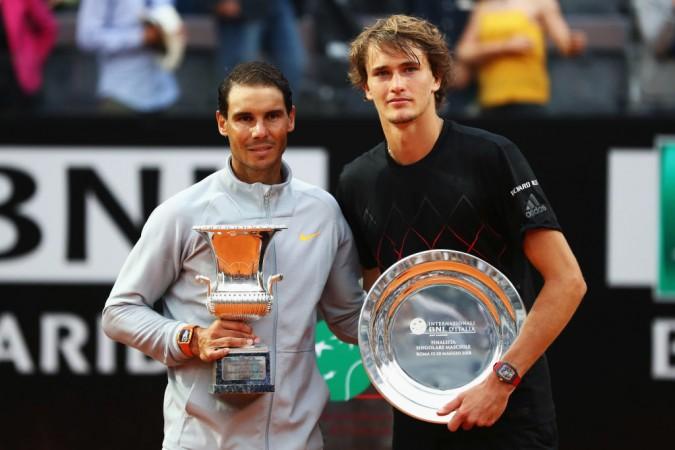 World number three Alexander Zverev will be dominating the Grand Slams in the next two years, according to numero uno Rafael Nadal.
Germany's Zverev, touted as the next big thing in tennis, has been turning heads with his consistent performances on the tour.
The 21-year-old former world junior number one has won eight titles, including three Masters 1000 titles, but has struggled at the Grand Slam level, having not managed to reach the quarter-final stage yet.
Nadal though insists Zverev's poor Grand Slam record is just a coincidence and is even betting big on the German star's future.
"We're going to do one thing: If he [Zverev] is not playing well in Grand Slams in the next two years, you can come back to me and tell me 'You don't know anything about tennis," Nadal said, as quoted by the Daily Express.
"I believe it's going to be a different story. That's my feeling: Tennis is tennis," the 16-time Grand Slam champion added.
"Doesn't matter best-of-three, best-of-five; and playing best-of-five is a bigger advantage for the best players, and Sascha is one of the best players, so it's a big advantage for him, too.
"In Grand Slams, or Masters 1000s, or any event, when you are able to win Masters 1000s, when you are able to compete well in all the events that he did already. It's true that he did not have great results in a Grand Slam yet — because it didn't happen.
"It was all a coincidence. It was impossible to don't have a great result on Grand Slam when you have the level that he has."
Zverev, who trains at Monte Carlo, is expected to enjoy a good run in French Open, starting May 27. The lanky youngster has been in fine form in the ongoing clay-court season, winning the Madrid Open and finishing runner-up at the recently-concluded Italian Open, losing a hard-fought final to Nadal.
Nadal has to thank his lucky stars as a rain break in the decider of the final helped him claw back and finish on the top step of the podium in Rome. Zverev was crushed in the first set but he came back strong to clinch the second 6-1 before racing to a 3-2 lead in the decider.
Notably, Zverev is leading the ATP Race to London rankings after having won two tournaments (Munich and Madrid) in the ongoing season. With 3135 points, he is leading second-placed Roger Federer by 25 points.