A British ISIS supporter pleaded guilty to terrorism offenses against Prince George on May 31. Husnain Rashid, who was accused of encouraging terror acts against the Prince of Cambridge, was arrested in November and was two weeks into his trail in Woolwich Crown Court when he pleaded guilty.
The 32-year-old previously maintained that he was not guilty of the charges, but took a dramatic U-turn and accepted he encouraged terrorist acts against the Duke and Duchess of Cambridge's son, third in line to the throne, CNN reported.
Rashid was arrested after messages were shared online encouraging militants against Prince George. A picture of George next to a jihadi fighter's silhouette with the complete address of George's school was shared with a message: "Even the royal family will not be left alone. School starts early."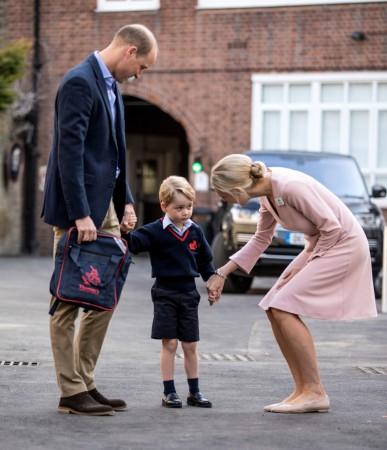 The image was posted on a Telegram group chat on October 13, a month after George began schooling in Thomas's Battersea in southwest London.
Who is Husnain Rashid?
Husnain Rashid is a 32-year-old ISIS supporter in the UK. He was born in Lancashire and resided with his elderly parents in Nelson. He is said to have been a teacher at the Muhammadi mosque. He ran a "prolific" Telegram channel called the Lone Mujahid.
It is on the platform where he provided an "e-toolkit for terrorism", the prosecution told during his trial. His targets included British army bases, shopping centres, Jewish communities and government buildings, British Press Association reports.
He encouraged followers to organise weapons, including knives, homemade bombs, poison, chemicals, vehicles and a martial art used by Israeli military called Krav Maga.
His exhortations included attacking UK football stadiums, the 2017 general election, Wimbledon, the Trafford Centre in Manchester and BBC Proms in the Park, The Guardian reports. He wanted to travel to Turkey and Syria hoping to fight in territories controlled by ISIS.
Rushid will be sentenced on June 28.