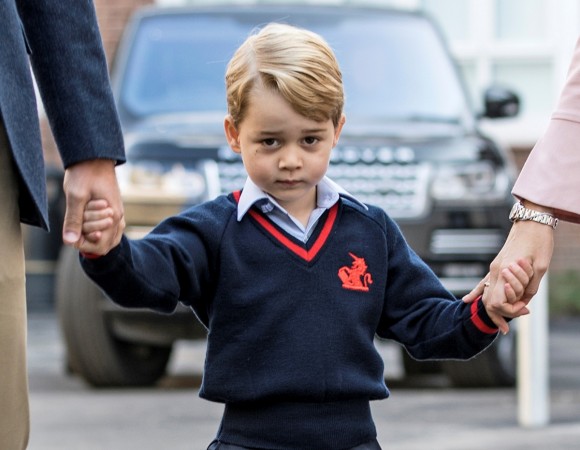 Terror attacks are definitely vile, but things get even more repulsive when terrorists attempt to attack children. And in a diabolical new revelation, a terror suspect is said to have urged extremists to attack Prince George at his primary school and warned that "the royal family won't be left alone."
Husnain Rashid appeared in London's Westminster Magistrates' Court on December 6, on charges of preparing acts of terrorism and assisting others in the same. The court also heard a case in which the 31-year-old suspect is said to have made a post about Prince George along with a silhouette of a jihadi standing next to him.
"There was a photo of the young Prince George at the start of the school term next to a silhouette of an ISIS fighter," the Mirror quoted prosecutor Rebecca Mundy as telling the court. He is also said to have given out the address of the four-year-old prince's school in Battersea, south London. The address carried a caption that read: "school starts early," along with a jihadi song which says: "When war comes with the melody of bullets, we descend on disbelief, desiring retaliation."
All these posts were reportedly made on messaging app Telegram.
These messages have already set off alarm bells among people in Battersea and a lot has been said about how the lack of security at the £17,600-a-year private school was shocking. Just a few weeks ago, a woman had filmed herself walking through the corridors of the school and not even one person had stopped or questioned her.
"I could have walked in with an IED and set it to go off. I live just 200 metres from the school and myself and lots of neighbours are worried about the security implications as the prince's presence will make the area a target for attacks," she had then told the Daily Star.
Rashid, from Nelson, Lancashire, has also been accused of encouraging extremists of carrying out gory attacks in Jewish areas and reportedly also provided them with a list of football stadiums in the UK that can be attacked. He has also called for attacks on the 2018 Russia World Cup as well as the Wimbledon tennis championship.
Messaging app Telegram has become extremely popular with extremists and the threats on it are said to be getting "explicit." Barry Spielman, whose internet surveillance firm Sixgill has been tracking Telegram for a while told the Star: "It seems that as ISIS continues to lose ground in Syria and Iraq, it has stepped up its threats to hit the West."