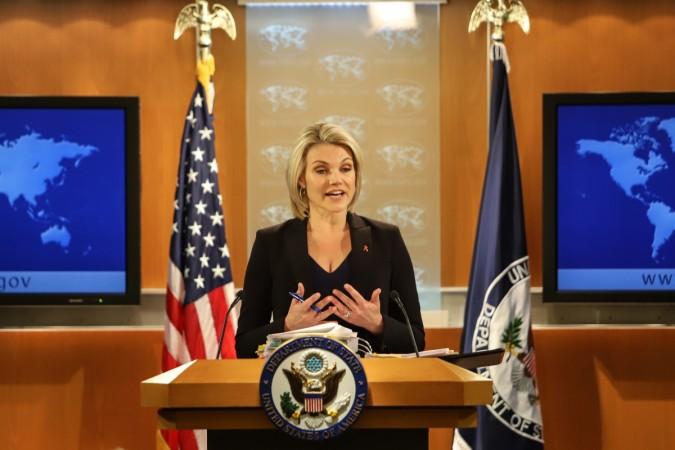 In a move that shocked quite a few people, even within the White House, United States Ambassador to the United Nations Nikki Haley resigned from her post on October 9. Since then, several speculations have been made on who would replace Haley, and now Heather Nauert seems to be emerging as the top choice.
President Donald Trump on Thursday, November 1, confirmed that the State Department spokeswoman is under "very serious consideration" to become the next US ambassador to the United Nations. He also explained that a decision would be announced soon.
"She's excellent, she's been with us a long time, she's been a supporter for a long time, really -- excellent. So she's under very serious -- we'll probably make a decision next week," the Agence France-Presse quoted the president as saying. However, many consider her as an unusual choice as she has no prior political or policy-making experience.
Who is Heather Nauert?
An American journalist and former news presenter, Nauert now is a government official. She has been serving as Acting Under Secretary of State for Public Diplomacy and Public Affairs since March 13, 2018, and is also Spokesperson for the United States Department of State since April 24, 2017.
Born on January 27, 1970, in Rockford, Illinois, she attended the Arizona State University, and received a master's degree in journalism from Columbia University.
As a journalist, Nauert has worked with several big names such as Fox News and ABC News.
The 48-year-old is known to be an ardent Trump supporter and even lashed out at Nordstrom for ending the sales of Ivanka Trump's clothing line.
She has also worked as a government affairs consultant on issues such as taxes, health insurance, and social security.
She was also a member of the Council on Foreign Relations.
In July, Nauert courted controversy for speaking about the Invasion of Normandy as proof of a strong relationship between the US and Germany.
Nauert married Scott Norby, executive director of private credit and equity for Morgan Stanley in 2000. The couple has two sons Peter and Gage.
While Nauert has now emerged as Trump's top choice to replace Haley, the post also had a few other contenders such as Ric Grenell, the US ambassador to Germany, Jamie McCourt, the US envoy in Paris, and Kelly Craft, the ambassador in Canada, reported CNN.