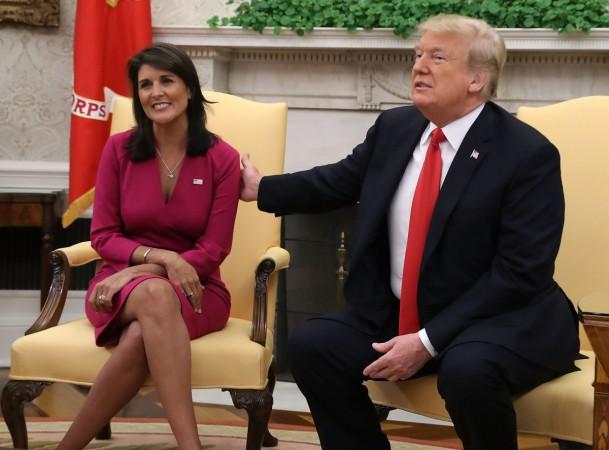 In a move that shocked quite a few people even within the White House, United States Ambassador to the United Nations Nikki Haley resigned from her post on Tuesday, October 9, and said that she would leave by the end of the year. President Donald Trump and Haley then held a press conference and explained that the decision wasn't really abrupt.
Haley had apparently spoken about it to the president months ago. Trump was all praise for her at the press conference, calling her a "fantastic person" who has "done an incredible job" and how he would be happy to see her back at the White House, if she desired. Without explaining further, he said that Haley simply wanted to take a break.
"She's done a fantastic job and we've done a fantastic job together. We've solved a lot of problems and we're in the process of solving a lot of problems," CNN quoted Trump as saying.
"She told me probably six months ago, 'You know maybe at end of the year -- at the end of the two year period -- but by the end of the year I want to take a little time off, I want to take a break,'" he added.
Clearing the air, Haley even said that the rumours of her running for presidency in 2020 were just rumours."I don't have anything set on where I'm going to go. It's been eight years of intense time, and I'm a believer in term limits. I think you have to be selfless enough to know when you step aside and allow someone else does the job."
While it may sound all simple and straight – Haley needed a break and hence decided to leave, many believe that there is more to the resignation.
Timing of the resignation questioned
While Haley will still be in her post until the end of the year, many have questioned why she and the White House chose to announce her resignation just weeks before the midterm elections. This is particularly strange as Haley is known to be quite popular and liked by both Republicans and the Democrats, which doesn't happen often.
According to the Washington Post, many believe that the timing of her exit is extremely odd and even wonder if it has to do with an article that appeared on Citizens for Responsibility and Ethics in Washington (CREW) on Monday, October 8. The CREW demanded an investigation into how Haley may be using government funds for private travel.
Right after Haley's resignation, Rep. Mark Sanford, a former South Carolina governor, spoke about the matter to MSNBC and said: "Something doesn't smell right. Something's weird."
Contradicting Trump's statement that Haley had told him about her desire to leave about six months ago, a source in the know told CNN that she had, in fact, notified the president just about a week ago.
Why was Haley so secretive about her desire to leave?
The Indian-American cabinet official is known to be one of Trump's closest aides and her resignation was bound to send shockwaves. However, her decision came as a surprise to even her staff and other prominent officials close to her and Trump.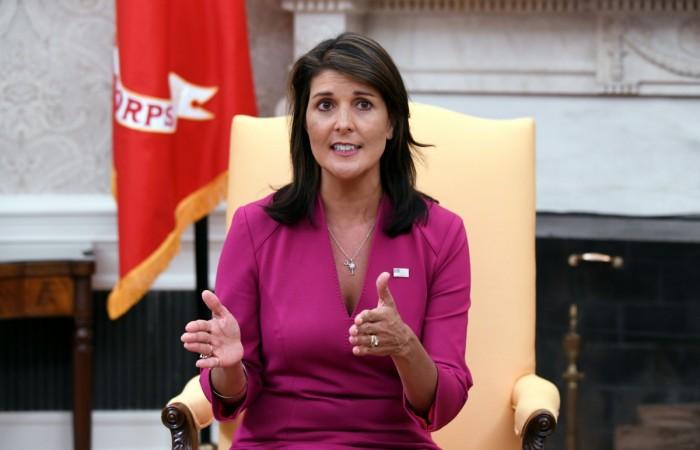 While Haley reportedly told her staff the news on Tuesday morning, Secretary of State Mike Pompeo and White House national security adviser John Bolton were clueless of Haley's plans and were shocked when she made the announcement on October 9. An official also told the CNN that the announcement wasn't coordinated as it should have been and shocked almost every senior official.
While these questions are evidently being raised by pretty much everyone, the most important question remains – Why did Nikki Haley really quit?
There are several speculations over why one of the most popular cabinet officials decided to quit at such a crucial time. While she has said that for now she has no specific plans and doesn't intend to jump into anything, many believe that she could have left as her equation with Trump could be souring.
When Rex Tillerson was the secretary of state, Haley was said to have been the go-to person in important matters. Trump is said to have sought Haley's advice on a lot of policies and even discussed important deals and sanctions. However, since Bolton and Pompeo took over, her role in the White House had reportedly changed and many believe that she may have wanted to leave on her own, before being asked to go.
Despite being a close aide, Haley and Trump have also clashed quite a few times in the past, and in one instance the president was said to have been livid at her for announcing sanctions on television. White House economic adviser Larry Kudlow then said that Haley "got ahead of the curve" and that "there might have been some momentary confusion about that."
However, Haley had hit back saying: "With all due respect, I don't get confused."
Meanwhile, it is also being said that Haley may have resigned as she wanted to move on to something more lucrative that pays her more. In 2018's financial disclosure, Haley is known to have declared quite a few debts and with her children too now set to go to college, Haley might find higher salaries more appealing, reported CNN.
Who will succeed Haley?
While Trump told reporters that he has shortlisted five names for the post, the first name that seems to come to his mind is Ivanka Trump. "How good would Ivanka be?" he asked reporters, adding that she would be "dynamite."
However, Ivanka then put out a tweet clarifying that she wasn't in the running.
It is an honor to serve in the White House alongside so many great colleagues and I know that the President will nominate a formidable replacement for Ambassador Haley. That replacement will not be me.

— Ivanka Trump (@IvankaTrump) October 9, 2018