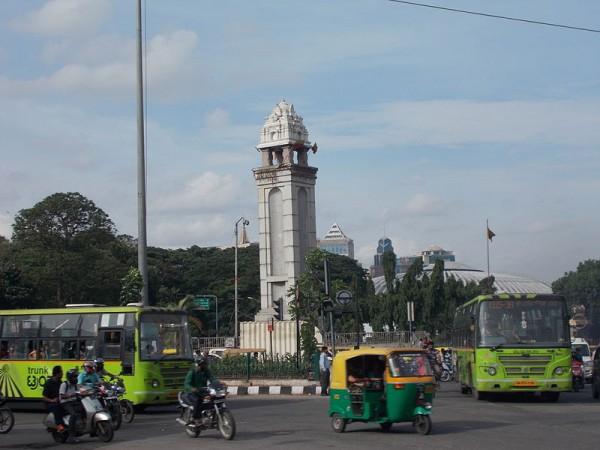 Gangambike Mallikarjun won the council election and will be the 52nd Mayor of Bengaluru. As the top job in the Bruhat Bengaluru Mahanagara Palike (BBMP), the ceremonial position will be held by the 39-year-old Congress member for one year as per the provisions of the Karnataka Municipal Corporations Act of 1976.
The outgoing Mayor, Sampath Raj, handed over the ceremonial "key" to the city to Mallikarjun at around 11.30 am on September 28. She is the first Lingayat woman candidate to be elected Mayor in the history of the BBMP.
This is only the second time ever that both Mayor and Deputy Mayor are women. Ramila Umashankar of the Janata Dal (Secular) was appointed the position as Deputy Mayor.
Apart from the strong backing from senior Congress members including Ramalinga Reddy and Shamanuru Shivashankarappa, the NIE reports that Shivashankarappa was firm about appointing a Lingayat member to the Mayoral office. Several Lingayat mutt seers also reportedly backed the candidacy of Mallikarjun.
Mallikarjun took the position today after a fair bit of political drama which featured a walkout, a strongly worded letter from the opposition leader to disqualify four votes, independent councillors being whisked away to a resort so that they do not turn, and the eventual appointment of Mallikarjun. She was always the first choice of Congress, as they made their intentions to nominate her clear, earlier this week, according to The Hindu.
Congress-JD(S) combine hoped to sweep by this election easily, but last minute surprise from the BJP who, in spite of not having the 130 vote majority as required out of 259, emerged as the single party with the highest number of votes, they managed to secure 129. Congress- JD(S) coalition managed to hold on to their numbers and with a boost of 8 independent councillors joining them, appointed a Congress member—Mallikarjun—as the Mayor and JD(S) member—Ramila Umashankar— as Deputy Mayor.