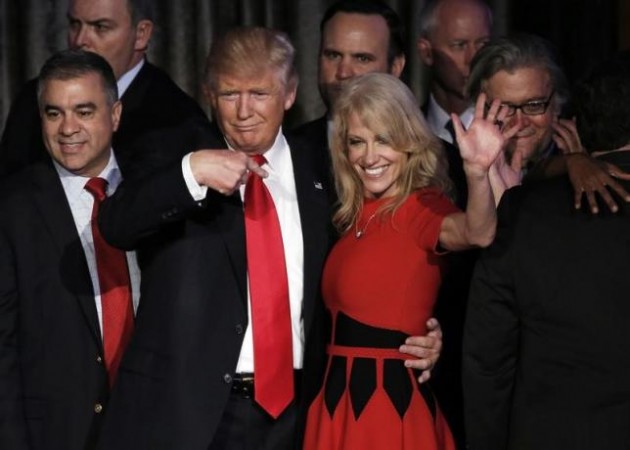 United States President-elect Donald Trump on Thursday chose his campaign manager Republican Kellyanne Conway as his counsellor making her the highest-ranking woman in his team in the White House.
Conway, known as Trump whisperer, was also the first woman to ever run a Republican presidential campaign when Trump selected her to manage his presidential campaign on August 17, 2016. The republican travelled with Trump throughout his campaign during the last months and offered advice on issues.
Conway, 49, was also seen on TV frequently speaking on behalf of the Trump campaign. She is a veteran political operative who spent the last three decades advising the Republicans on how to appeal to the female voters of the United States. Reports state that even before Conway was chosen for the campaign top job, she was already advising Trump on how to win voters.
"Kellyanne Conway has been a trusted advisor and strategist who played a crucial role in my victory. She is a tireless and tenacious advocate of my agenda and has amazing insights on how to effectively communicate our message. I am pleased that she will be part of my senior team in the West Wing," Trump said in a statement on Thursday.
However, many do not know that Conway is highly educated. She graduated from Trinity College in Washington, DC and earned a degree in political science, according to reports. She subsequently went on to study at the Oxford University and was elected to Phi Beta Kappa, a prestigious honours society. She later graduated from George Washington University Law Center earning a law degree with honours.
Conway is also a former pageant winner. She won the New Jersey Blueberry Princess pageant in 1982. The Republican is married to a New York lawyer George T. Conway III and has four children, according to CNN. Reports state that before her marriage to Conway III she was romantically associated with a Republican lawmaker and actor late Tennessee Sen. Fred Thompson. He starred in Law & Order and other movies.
Why is Conway described as the "Trump whisperer"?
Conway reportedly met the Republican billionaire in 2006 when she was living in one of his buildings. Conway also served on the condo board of the Trump World Tower in Manhattan. She once told the Washington Post that Trump was surprisingly hands on and even showed up to the meetings to hear the concerns of the residents. Reports state that Trump would later call her to say that he had seen her on television and wanted her opinion on certain topics.
The duo again met in 2015 to discuss his presidential campaign for 2016 US elections. Conway said that Trump in March 2015 offered her a job on his campaign, however, she initially declined the position fearing how public would view their partnership. "Like, 'What are you doing there? Riding on a plane? Whispering in his ear about what he should say to women?" she had said. Conway, however, became one of Trump's closest advisors.