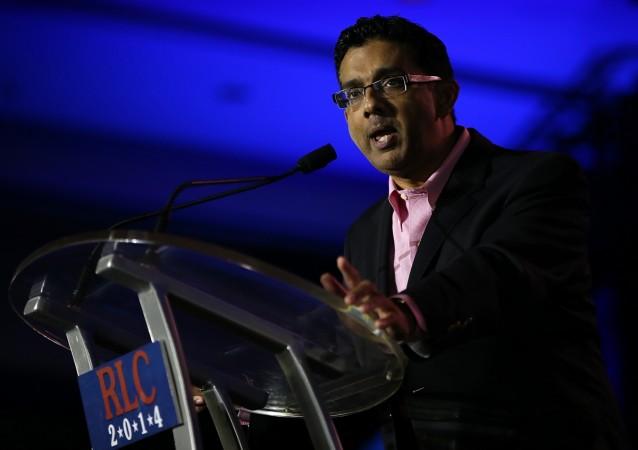 US President Donald Trump has announced on Twitter that he is pardoning Indian-American conservative commentator and filmmaker Dinesh D'Souza, who was sentenced to five years of probation for campaign finance law violations in 2014.
Trump tweeted on May 31 that D'souza was treated unfairly by the government. He told reporters that he called D'souza and spoke for nearly three minutes. "He almost had a heart attack," Trump told reporters.
White House Press Secretary Sarah Sanders issued a statement, "Mr D'Souza accepted responsibility for his actions, and also completed community service by teaching English to citizens and immigrants seeking citizenship. In light of these facts, the president has determined that Mr D'Souza is fully worthy of this pardon."
In 2014, he was sentenced to five years of probation that included a fine of $30,000 and eight months of living under supervision in a halfway house.
Who is Dinesh D'souza?
Born in Mumbai, D'souza is the author of several New York Times bestseller books and a documentarian. The 57-year-old is known for his books and movies that attack the liberal ideologies and politicians
D'souza was accused of using straw donors to make an illegal donation of $20,000 to a Senate campaign in New York in 2014. This exceeded the personal limit of $5,000. His lawyer Benjamin Brafman had said that time that the donations were an "act of misguided friendship."
He has often criticised former US President Barack Obama. In 2012, he made film 2016: Obama's America, which became one of the highest-grossing political documentaries. In 2016, he made another documentary titled Hillary's America.
Top Indian American attorney Preet Bharara, who brought charges against D'Souza, opposed this move and said there was no fairness in his case.
"The President has the right to pardon but the facts are these: D'Souza intentionally broke the law, voluntarily pled guilty, apologized for his conduct & the judge found no unfairness. The career prosecutors and agents did their job. Period," Bharara tweeted.
Sree Sreenivasan, a renowned social media influencer and former chief digital officer with the New York City Mayor's office, posted a chain of tweets about his racist and anti-immigrant policies.
"The racist and anti-immigrant policies you advocate, @DineshDSouza - but fortunately have no power to implement - would harm countless Indians in this country. I also find it amusing how you've forgotten you're an immigrant yourself," he tweeted, adding: "And, @DineshDSouza, before you bring up your Indian heritage w/ @PreetBharara, let me remind you that you've shown no interest in the community since an event we did in 199."
"BTW, @dineshdsouza, the right word you're looking for is SCHADENFREUDE. Not karma. Look it up. Learn it. Be humble," he said.