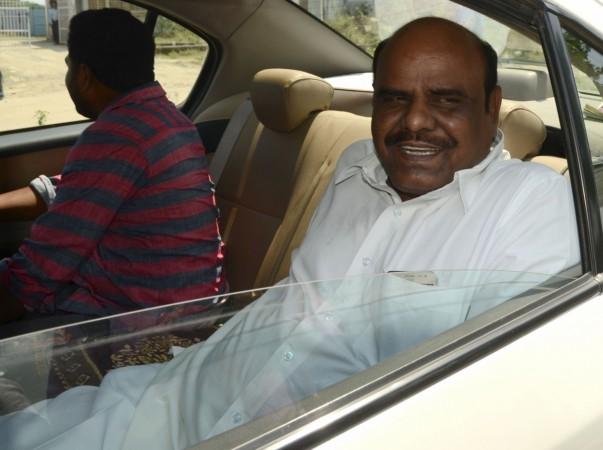 While all eyes have been on the south Indian state of Karnataka and the drama around government formation, former Calcutta High Court justice C S Karnan announced Wednesday, May 16, that he was launching a new political party. He added that his Anti-Corruption Dynamic Party will also contest the general elections in 2019.
Something that stands out in Karnan's party is the fact that it will only pit women candidates for the polls.
Karnan explained that as the name suggests, the main aim of the Anti-Corruption Dynamic Party is to root-out corruption from the nation.
"My party will take part in the forthcoming (Lok Sabha) polls in 2019. We will decide on the number of seats but only women candidates will be nominated for contesting," the Press Trust of India quoted Karnan as saying in Kolkata.
"We are approaching the Chief Election Commissioner for registration of my party."
He also said that the party members had requested him to contest the 2019 polls from Varanasi, which is Prime Minister Narendra Modi's constituency, but he believes that this too must be taken up by a woman. "But I don't want to contest from Varanasi. That should also be contested by a woman candidate," he added.
Karnan, himself a dalit, said that the treatment meted out to dalits in the country is demeaning and an embarrassment before the international community and that innocent dalits lodged in jail must be released.
"All the state machineries and the central government should protect the interests of minorities and Dalits, which is the paramount duty of the respective governments," Karnan added.
Who is CS Karnan?
Born June 12, 1955, to a dalit family in the Cuddalore district of erstwhile Madras (now Tamil Nadu), Karnan is a retired judge of the Calcutta High Court.
He has a bachelor's degree in Botany, after which he obtained a Bachelor of Law degree from the Madras Law College.
He then enrolled as an advocate with the Bar Council of Tamil Nadu and began practicing civil law.
He also was appointed as legal adviser to the Chennai MetroWater Supply and Sewage Board.
Karnan is not new to controversy and made news in November 2011 for writing to the National Commission for Scheduled Castes saying that he was facing caste-based harassment at the court.
He even spoke of an incident where a judge had "touched him with his foot."
He also made news for accusing other judges of corruption. After the incident 20 judges wrote to CJI to move transfer Karnan as it was reportedly impossible to work with him.
The Supreme Court May 9, 2017, sentenced Karnan to six months imprisonment for contempt of court. He then retired from service and was released from jail December 20, 2017.