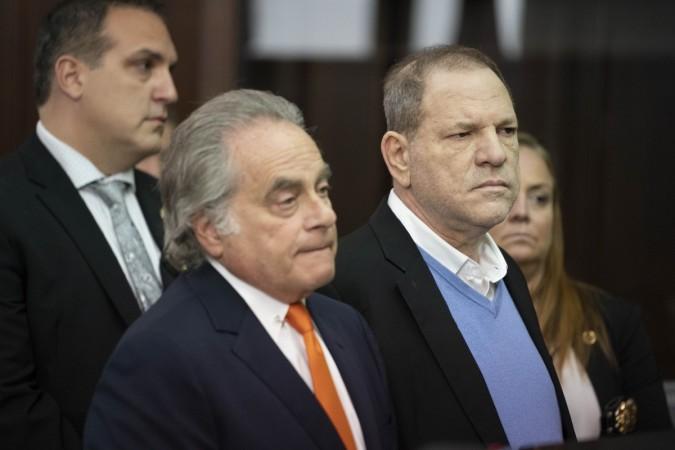 Disgraced Hollywood film mogul Harvey Weinstein was finally arrested after being charged with two rape and sexual abuse cases. But he immediately got released on $1 million ((£751,000/ Rs 6,77,31,700) bail. Apart from that, he was also ordered to wear a GPS tracker and surrender his passport after turning himself to the police.
Weinstein's lawyer, Benjamin Brafman, defended his client on Friday, 25 May. The Hollywood movie producer is facing charges of raping and sexually abusing two women in 2004 and 2013.
After defending his infamous client in Manhattan Criminal Court on Friday, Brafman said that Weinstein did not "invent the casting couch in Hollywood."
During his interaction with the reporters outside court, the 69-year-old lawyer said, "My job is not to defend behavior. My job is to defend something that is criminal behavior. Mr. Weinstein did not invent the casting couch in Hollywood. To the extent that there's bad behavior in that industry, that is not what this is about. Bad behavior is not on trial in this case."
However, actress Rose McGowan, who accused Weinstein of rape and sexual harassment, told BBC that finally, it had been an "amazing day for his surviovrs."
She said, "It's a very significant moment, it's a concrete slap in the face of abuse of power. It's just the beginning of that process and if we can see this through to the end, I hope we emerge victorious."
She also tweeted later: "We got you, Harvey Weinstein, we got you."
We got you, Harvey Weinstein, we got you

— rose mcgowan (@rosemcgowan) May 25, 2018
Who is Benjamin Brafman?

Brafman is an American criminal defense attorney.
He founded the Manhattan-based firm Brafman & Associates, P.C.
His list of clients includes a lot of élite class offenders such as Dominique Strauss-Kahn, the former head of the International Monetary Fund; Plaxico Burress, the New York Giant; Dinesh D'Souza, the right-wing political scold; and Michael Jackson.