Come December 1, 2018, and Mexico will get a new president in Andres Manuel Lopez Obrador. The leftist leader claimed victory in Mexico's presidential election on Sunday, July 1, and said that the country was now ready for a change.
Obrador, often referred to as AMLO, is said to have won about 53 percent votes and soon after spoke to jubilant supporters during an event in Mexico City. "Today, they have recognized our victory," Obrador said, according to BBC and also added that he would respect the liberties of his countrymen.
The 64-year-old also explained that he was "not looking to construct a dictatorship, either open or hidden," and said that corruption was the root of all social and economic inequality in the nation.
"Corruption is... the result of a decadent political regime. We are absolutely convinced that this evil is the main cause of social and economic inequality, and also that corruption is to blame for the violence in our country," he said, adding that no one involved in corruption will be spared.
Who is Andrés Manuel López Obrador?
Born in Tepetitán, a village in the southern state of Tabasco, Obrador studied political science and public administration from 1973-1976.
Obrador held several positions in the government of Tabasco after which he returned to complete his education.
He received his degree in political and social sciences in 1987.
In 1988, he resigned from his post with the government of Tabasco and joined the left-wing of the Institutional Revolutionary Party (PRI) called the Democratic Current at the time.
In 1994, he ran for the governorship of Tabasco but lost to PRI candidate Roberto Madrazo.
He is known to have publicly denied that he was a Protestant and identified himself as a Roman Catholic.
AMLO was elected Head of Government of the Federal District on July 2, 2000. He gained a lot of popularity during is tenure and is known to have kept 80 percent of the promises he made during the campaign.
He has also worked with Rudy Giuliani when he asked the former New York City mayor to craft a zero-tolerance policy to bring down the crime rate in Mexico City.
Obrador was nominated as the presidential pre-candidate for his party in September 2005 for the 2006 elections and was considered a front-runner for a while. However, his popularity later saw a decline.
He lost to his opponent with a narrow margin of 0.56 percentage points.
He was once again named as the presidential candidate of his party for the 2012 elections and he had even revealed a tentative cabinet.
He married Rocío Beltrán Medina on April 8, 1979, and the couple had three sons.
However, things didn't work out between the duo and he married Beatriz Gutiérrez on October 16, 2006. The couple has one son.
Obrador is a baseball fan and had once said that St. Louis Cardinals was his favourite team.
After his election, Obrador received congratulatory messages from the world over, including US President Donald Trump.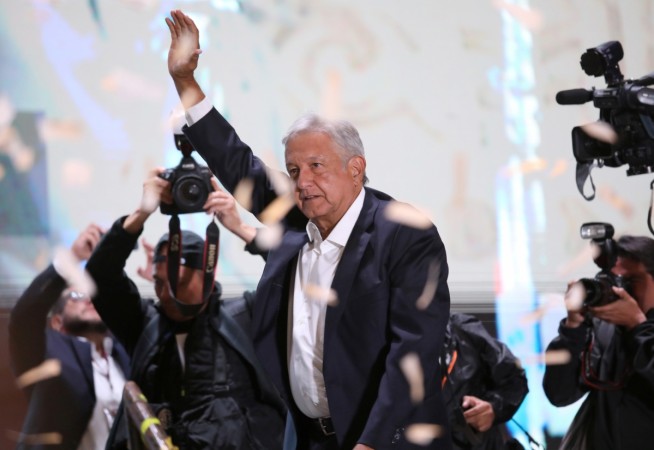 "Congratulations to Andres Manuel Lopez Obrador on becoming the next President of Mexico. I look very much forward to working with him. There is much to be done that will benefit both the United States and Mexico!," he wrote on Twitter.
Obrador will now have the task of working with Trump, who has constantly spoken about his dislike for Mexico and Mexicans. Not just that, the US president has also threatened that the nation would pull out of the North American Free Trade Agreement, or NAFTA, if its clauses are not rewritten.
AMLO had earlier also slammed Trump for his move to build a wall along the US-Mexico border and pushed back against these plans in a book titled "Oye Trump." He also compared the US president and his team's way of talking about the Mexicans to the way Nazis spoke about Jews and went on to say that Trump was "erratic and arrogant."