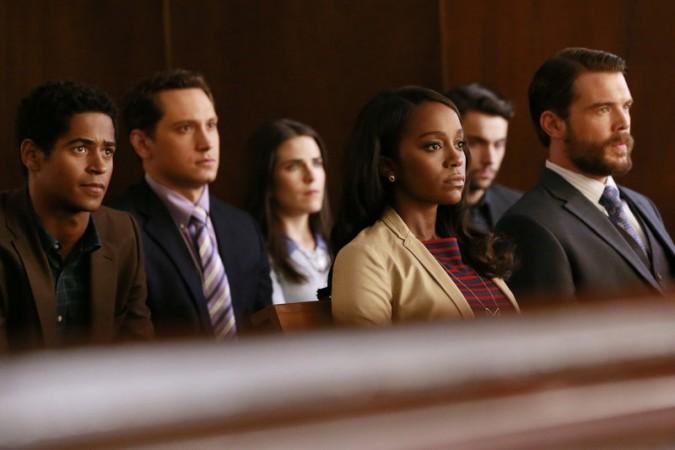 How To Get Away With Murder season 3 returns with episode 6 at 10pm EST tonight, October 27, on ABC. The sequel is titled Is Someone Really Dead? and it will reopen the Wallace Mahoney murder case.
Here is the official synopsis for the new episode: A revelation in the Wallace Mahoney murder rattles Annalise and the Keating 5, as the team takes on the case of a veteran facing assault charges. Since the sub-title of the sequel is It's All In The Family, viewers are anticipating Wes Gibbins' involvement in his father's death.
Meanwhile, a trailer for the next episode also hints at troubled moments for Alfred Enoch's character. In the clip, the young associate rushes to Annalise Keating's office to inform her that the police is at his apartment.
Immediately, Laurel Castillo receives a call from Meggy Travers asking for the whereabouts of her friend and she replies by just saying, "Tell them the truth: that you don't know where he is." When she tries to comfort the doctor by saying that everything is going to be fine, the law professor snatches the phone away.
The upcoming episode will also feature Brett Butler of Grace Under Fire fame as Michaela Pratt's mother Trishelle Pratt. Click here to watch How To Get Away With Murder season 3 episode 6 live online. Is Someone Really Dead? will also be available online here.
Also, check out the official synopsis for How To Get Away With Murder season 3 episode 7, titled Call It Mother's Intuition, below:
Annalise and her students take on a case defending siblings who have been charged with conspiracy to commit murder against their mother. Meanwhile, Frank's actions lead to a painful consequence.