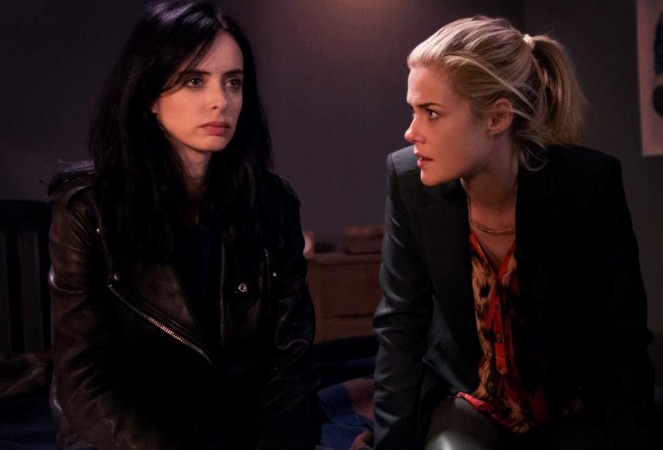 Marvel's Jessica Jones Season 2 is arriving on International Women's day. But fans must be wondering about the exact time the second season will arrive on Netflix. Well, there is surely an answer for that.
The 13 episodes of Jessica Jones Season 2 will release on Netflix on Thursday, March 8, at 3 am EST, 2 am CST, 8 am GMT and 1.30 pm IST.
In Jessica Jones Season 2, New York City private investigator Jessica Jones (Krysten Ritter) is beginning to put her life back together after murdering her tormenter, Kilgrave. Now known throughout the city as a super-powered killer, a new case makes her reluctantly confront who she really is while digging deeper into her past to explore the reasons why, as per the official synopsis.
So, just before you start binge-watching the series, take a look at the reviews for Jessica Jones Season 2.
The fourth and fifth episodes start moving Jessica Jones in a direction that makes the turmoil of the plot better mirror the character's turmoil. Those episodes accelerate the action, orchestrated this season exclusively by female directors, and accelerate several characters toward crisis. Maybe this will be the rare Marvel/Netflix show that built the lag into the start of the season?
Krysten Ritter is still a delight to watch as the sarcastic, rude, undelightful Jessica. She ran out of f***s to give a long time ago and she isn't in any mood to loan out a few this time either. However, each time her stern surface breaks apart, it reveals a hurting woman scared of herself and wanting of a better life than the one her past or alcoholism would let her have.
"Marvel's Jessica Jones" is never not a Marvel TV show, with all of what that implies — mushy plotting, convenient characterization, a slew of side characters with bizarrely complex biographies, and a preponderance of mysteriously vast and endlessly complex science-y conspiracies.
What's missing in that list is a villain, which brings up the biggest, and in some ways most uncomfortable, comparison with Season 1. Because the most distinctive thing about that season was David Tennant's portrayal of the mind-controlling psychopath Kilgrave. And the emotional and narrative center of the story, its juice, wasn't Jones's anger or her power — it was her fear, the terror she felt at Kilgrave's hold over her.