Kilgrave is presumed to be dead in Jessica Jones season 1 but he is actually not dead. The latest batch of images from the second season of the Netflix-Marvel show tease that the show's villainous character Kilgrave aka The Purple Man is back from the dead.
Also read: Why Matt Murdoch does not want to don the Daredevil's suit in The Defenders
While Jessica Jones's sister series The Defenders is about to premiere tomorrow on Netflix, some set photos of Marvel's Jessica Jones released through Entertainment Weekly confirmed Kilgrave's return --played by David Tennant.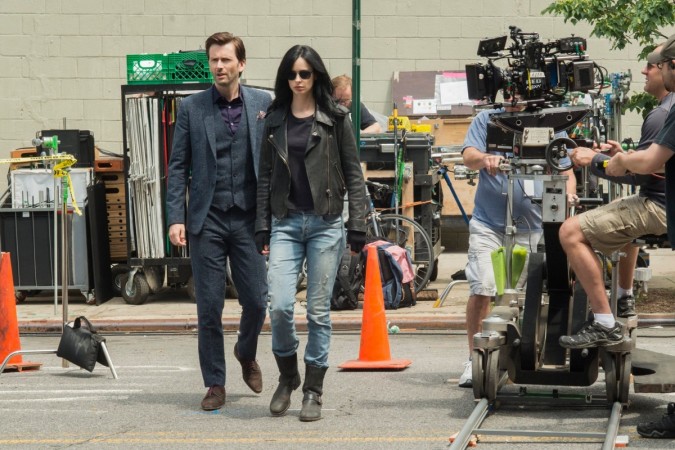 The season 2 of Jessica Jones started filming in April this year. In the set photos, Kilgrave (Tennant) attempts to trouble Jessica (Krysten Ritter) as she is trying to walk away faster. He is seen in his old trademark purple-coloured suit with the tie.
Fans have been stunned to see the villain's return in the series as one fan pointed out on Twitter that it might be Jessica's imagination. Meanwhile, another explained it further saying, "In the comics, Kilgrave is immortal and has abilities to heal himself so... and in S1, he did improve his powers."
In season 1, we had seen Jessica tracking down the manipulative villain and then killed him in the final confrontation. Hence, we are not sure how Kilgrave's character will return. While his return is confirmed in the forthcoming season, then it's time to see whether he will return as a ghost or as an imaginary figure to make Jessica suffer more.
Jessica Jones season 2 is expected to air sometime in 2018 and as well as Marvel's Luke Cage. Prior to that, The Defenders is set to arrive (which is a crossover of all Marvel street superheroes including Luke Cage, Daredevil, Iron Fist) on Netflix on August 18, 2017. The second season for Iron Fist (starring Finn Jones) has also been confirmed by Netflix despite much controversy and low-ratings.