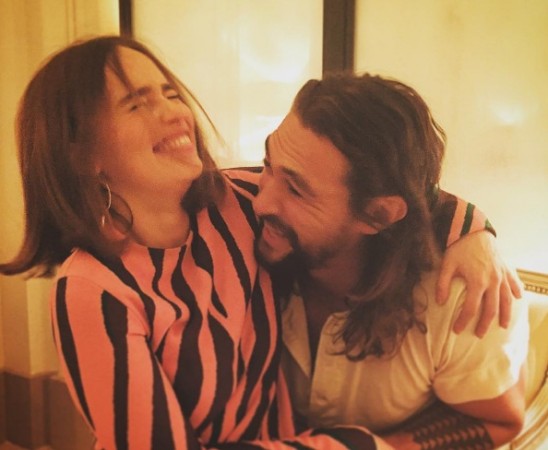 Khaleesi finally reunited with her Khal Drogo!
Sounds impossible, right! But Game of Thrones fans have to see all the pictures.
English actress Emilia Clarke, who portrays the role of Daenerys Targaryen aka Khaleesi in the HBO series, took to Instagram to share a photo of her cuddling the Khal Drogo actor Jason Momoa.
Also read: Game of Thrones Season 8 air date, spoilers: Rhaegar Targaryen to return in the HBO series?
The 38-year-old actor also later posted two pictures of themselves. Momoa played the role of Daenerys's husband in the popular fantasy series, who is also well known as Khaleesi's 'sun and stars.'
The Me Before You actress captioned the picture, "When life is so good that your sun and stars is in your city...you loose your eyes and gain 5 grins (and gins) where until now they'd only been one... (*grins- there's always more gins)."
However, she did not forget to take a dig at Jon Snow aka Kit Harington as she added quite a few hashtags — "#lookoutjonsnowdrogosgotyournumber #happinessishere #hawaiianhakahunkoffunshutsdownlondon."
Momoa did not waste a moment to comment on the picture, "You are and will always be the Moon of my life. What an epic night, I miss you always. Aloha Drogo."
If fans are curious about the much-awaited reunion of these two GoT stars, then they should also be aware of Momoa's upcoming big release Justice League. The actor was in London to promote the superhero movie along with his other co-stars Gal Gadot, Henry Cavill, Ben Affleck, Ezra Miller and Ray Fisher.
Sharing a photo on his Instagram page, Momoa wrote: "Crazy mad insane LOVE for this queen it's truly like bubbles of giggles are in our bellies when we are together. It's a shame we don't get to see each other as much as we would like but when we do I feel like a f—king KHAL love u @emilia_clarke always forever Yer Jalan Atthirari Anni #getreadyhereicome #GOTohana #slaps mahalo @bullchinashope1_ for always taking care of me @cristian.bullinachinashop you make it a home away from home brother. Aloha Drogo."
He posted another photo of him alongside Clarke and Gal Gadot.
He captioned the photo: "I'm so honored to know these two amazing women queens goddesses @gal_gadot @emilia_clarke Wonder Woman aka amazing mother warrior aka saves my ass all the time in JL And Khalessi aka mother of F—king dragons aka my boo aka moon of my life. Even I have to fanboy out sometimes."