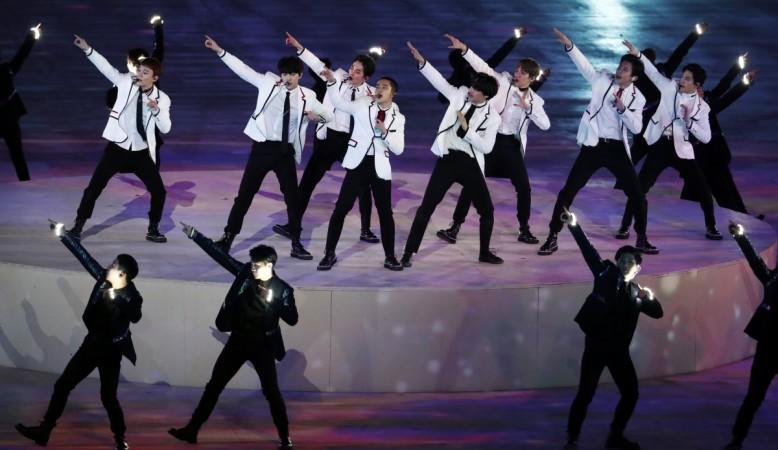 Ever since members of K-pop band EXO released their latest album, "Ex'Act," they've been revealing a more personal side to them. If Suho spoke about the band's humble beginnings, his band mate Baekhyun gave a sneak-peek into his childhood. But the band members' recent appearance on "Happy Together" required them to spill information that's a bit more personal.
EXO members Chanyeol, Chen and Suho's time on the Korean variety TV show included more pressing questions by fellow guest Uhm Hyun Kyung and host Jun Hyun Moo. The hard hitting questions came their way when Chanyeol spoke about his recently released film, "So I Married an Anti-Fan."
Talk show host Jun Hyun asked about Chanyeol's on-screen kiss, but the singer brushed it off saying that it was a kiss that lasted all of five seconds. Unfortunately for them, his fellow guest Uhm Hyun asked if it was his first kiss and the "Growl" singer stated that it was his first in a flim or a drama.
However, that's when the "Happy Together" host asked Chanyeol's band mates about their first kiss. When Jun Hyun asked Chanyeol if he kisses a lot in private, a rather intimate question, the EXO member clarified, "I wouldn't say 'a lot,' I mean it wasn't my 'first kiss.'"
Chanyeol's honesty didn't resonate with his band members' responses though. EXO leader Suho blushed when he had to talk about his first kiss, but remained rather vague and said he doesn't remember when he had it.
When the same question was posed to Chen, the 23-year-old singer didn't think twice before he said, "I don't want to talk about it." This direct reply made everyone crack up and his band mate Chanyeol even applauded, according to Soompi.
Unfortunately, fans may never know when the EXO members shared their first intimate moment but we do hope that the EXO members continue to share tid bits of information from their personal lives. After all, it is these facts that make fans' relationship with their idols so much more enriching.