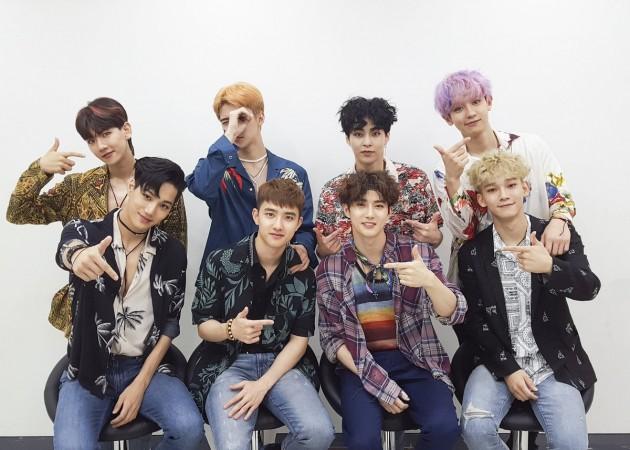 The popular South Korean-Chinese boy band EXO which debuted in 2012, will be celebrating their seventh anniversary next year. The band members consists of Suho, Sehun, Chen, Chanyeol, Kai, Xiumin, Baekhyun, Lay and D.O
Since many of the K-Pop groups tend to disband after working together for seven years, EXO Ls (the fan group of EXO) are desperate to know if the nine-member group will follow the footsteps of other bands.
However, the fans of this popular boy band across the globe may not really have to be worried about the disbandment of their favourite music group, as Chanyeol has revealed that their "bonding is getting stronger" each passing year.
Also read Chinese New Year 2018: Will Year Of The Dog be lucky for RM, Sehun and other Korean celebrities?
"I think our bond is getting stronger every year. We frequently gather to talk things out and when there's a difference of opinions, we try to solve it by finding a middle ground," he said during an interview with Section TV on MBC.
While talking about their teamwork, the young Korean heartthrob praised their leader Suho, "He's a driving force in our team and is able to quickly make progress in conversations," he said.
Adding on, Chen said that Suho has not changed at all since their debut. "He has always had such an upstanding personality and the image of a model student. His image hasn't changed from the very beginning, and I think that's why he's our leader," he explained.
Baekhyun further added, "Even his face hasn't changed at all."
Meanwhile, Chanyeol revealed that he did not like Suho during their training period, but now he depends on him for everything.
"To be honest, I wasn't that close with Suho when we were trainees, but now I go to him when I have concerns or when too many thoughts are running through my head. He's never changed," he said.
EXO members are currently busy with the promotional activities of their fourth studio album The War and their first full-length Japanese album Countdown.