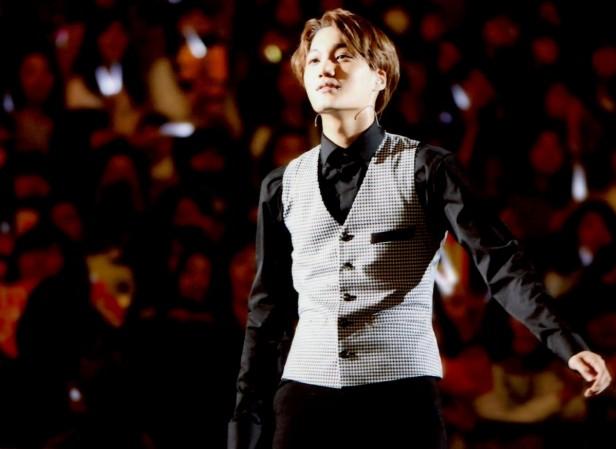 Exo member Kai Jong-in, popular as Kai, has been going through a tough time. The singer's father passed away May 7 after suffering from a chronic illness.
Kai's agency SM Entertainment in a statement released May 8 said that Kai's father passed away.
"Kai's father passed away yesterday due to a chronic illness. Kai is currently staying at the wake, and the funeral will be held quietly with family and relatives. We ask for your consideration so that the family can grieve his father's passing," the statement read.
The Exo bandmates are expected to be at Kai's side during the funeral of his father. But it is not known when and where the funeral will take place.
Kai is the youngest of three children. The singer has always spoken about his father supporting his dreams and helping him to pursue it. In an interview in 2017, Kai revealed that it was his father who influenced him to join SM Entertainment.
"Ever since I was young, I went to all kinds of music classes. I had the most interest in dance, and so when I was eight, I started ballet and I won a national competition for it," Kai said in 2017, according to Soompi.
"Even with my SM audition, my father prepared for it. He videotaped all of my dances since I was eight and sent them to SM, and that's how I was able to audition for them. I faced a lot of obstacles, like not passing my SM audition, but my father always believed in me," he added.
Meanwhile, soon after the news of Kai's father passing away broke, fans took to Twitter to offer condolences and love.
Check out the Twitter reactions on Kai's father death below:
"When your idol is in hard times but you can't do anything to comfort him because you are just a fan Condolence to Kai and to his family #Kai #EXO @weareoneEXO," @shinrose_27 tweeted.
"I Sending my deepest condolences to you kai and to your family . I know that feeling and i know that it's gad damn hurt but be strong kai were always here for you ang always remember EXO-l's love you so much #BeStrongKai #EXO #KAI," @AngelManansal15.
"It was the father who pushed him, and made him have his dreams and make us know him. May the Kai's father be in peace. #StayStrongJongin #StayStrongKai #KAI #exo," @rnkkl tweeted.