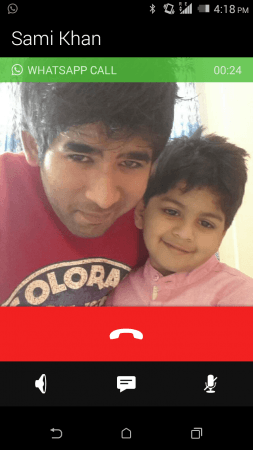 WhatsApp is yet to rollout its much-anticipated voice-calling feature to its users on mobile. The feature is widely rolled out for Android users an via invite-only system, while iOS and Windows users are still on the waitlist.
The company's co-founder Brian Acton recently confirmed during the Facebook F8 conference that iOS rollout will begin in the coming weeks. Sadly, there's no concrete information for Windows phone users. Android and iOS users have been lucky to get the voice-calling activated.
Here's a roundup of when and how to get WhatsApp voice-calling on Android, iOS and Windows phone.
Android
WhatsApp voice-calling was first spotted on Android platform, with only a few select users and developers chosen for the beta testing of the feature. The company is growing confident with the platform, allowing users with voice-calling to activate the feature for others by calling them. Previously WhatsApp allowed invitations with breaks but it seems to be fully open now. If you have the feature activated on your Android smartphone, call your friends running the latest version of WhatsApp (version 2.12.7 from the official website or version 2.11.561 from Play Store) to activate it on their phones too.
Once the feature is activated, users will see three tabs for Calls, Chats and Contacts.
iOS
Apple iPhone users have largely been left out of the testing for voice-calling on WhatsApp. Although a recent update to the app added a call button, it remained inoperable. To enable the feature on iOS app, users must have a jail broken iPhone and a person to invite them to the closed group of testers.
To activate voice-calling on a jail broken iPhone, users must have the latest beta version of the app. Add iMokholes rep to Cydia sources and add the code "apt.imokhles.com". Then users must install WhatsAppCallEnabler from Settings menu and request a call from someone who already has the feature working. This has proven to work but jail breaking an iPhone just to get a tiny feature on one app seems not worthy. Instead, users can just wait for a couple of weeks to get the official update.
Windows Phone
Windows phone users are usually the last ones to get any new feature WhatsApp rolls out. Typically, the trend is likely to continue with voice-calling too. Although the instant messaging giant hasn't confirmed the feature for Microsoft's mobile OS, a recent report by WMPoweruser confirmed that the feature's arrival on the platform is imminent. This is the first ever-sign of WhatsApp voice-calling coming to Windows phone, which may suggest the platform is not too far off from getting the official OTA update.